Peace Corps Senegal Camp: ADENN's Ndioum Gardening Training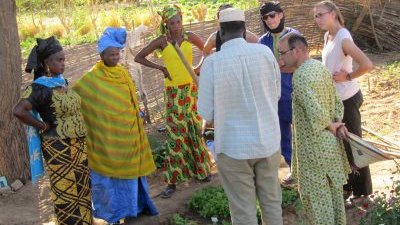 Peace Corps Senegal Urban Agriculture Volunteer Dylan collaborated with local NGO, Association de Développement Ndiyam Nguurdam (ADENN) to host an agricultural training in Ndioum, a city in the Podor department and St. Louis region of northern Senegal, 20 January 2014. "Ndiyam nguurdam" means, "water for life," in Pulaar.
Four representatives from women's groups in Podor attended the training alongside eight Peace Corps Senegal Volunteers: Dylan, Christopher, Katherine, Megan, Dana, Sarah, Yanelli and Alicia. Peace Corps Senegal Agriculture Programming and Training Assistant Youssepha Boye began with a moringa and nutrition discussion succeeded by various gardening technique trainings including: hexagonal spacing, double digging and basic composting. Peace Corps Senegal Language and Cultural Facilitator Oumar Tall also participated; he even took over the composting session after telling one volunteer, "I got this."
The Ndioum gardening training is a fine example of Peace Corps Volunteer collaboration with local NGOs and a successful training of trainers.
Special thanks to Dan Petersthwitt, ADENN President, for your support.Visit http://www.adenn-suisse.org/adenn-sénégal/ for more information on ADENN.