Peace Corps Volunteers Combine Learning and Fun at the Fourth Annual Talibé Soccer Tournament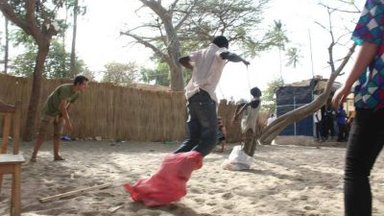 On April 9th and 10th, 26 volunteers from all over Senegal came together in Saint-Louis to participate in the 4th Annual Talibe Soccer Tournament, an event aimed at letting young Koranic students break away from their responsibilities to be kids for a day.  Volunteers conducted a wide range of mini-trainings. Health volunteers provided information on childhood nutrition and water and sanitation. Agroforestry volunteers demonstrated how to plant Moringa beds and fill tree sacks. Community Economic Development (CED) volunteers provided information on the economic benefits of producing moringa powder along with its health benefits.  And Urban Agriculture Volunteers extended micro gardening to assist in the sustainable cultivation of mint, which can help generate income in urban areas.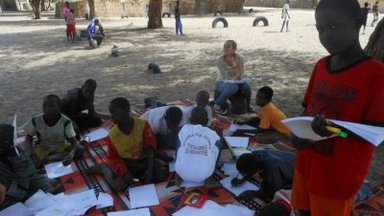 Volunteers organized name writing to encourage literacy amongst younger talibé. Volunteers also had face and hand painting activities that the kids absolutely adored!  Later in the day, we held an obstacle course and taught a number of talibé Frisbee.  Volunteer activities during the tournament promoted all three goals of Peace Corps: we helped train many young talibé in a variety of techniques related to our primary frameworks, brought a plethora of volunteers to interact with them, and publicized the talibé issue with Americans back home. It was a huge success!
---