New Library Expands Educational Opportunities in Remote Northeast Senegal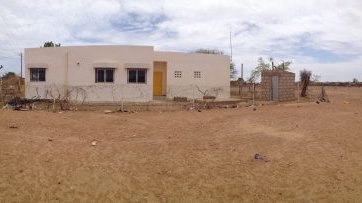 We begin this story in relatively big village not far from the border with Mali. This site is a Pulaar community of 4,500 people in the extreme northeast of Senegal. Comparing the village to its neighbors, it's clear this location features an unusually motivated community. They have a high functioning Health Post, Post Office, large elementary and middle schools, and electricity in almost every compound. The literacy rate is low compared with larger cities, but a surprising number of community members have basic levels of French literacy and can read at a primary school level.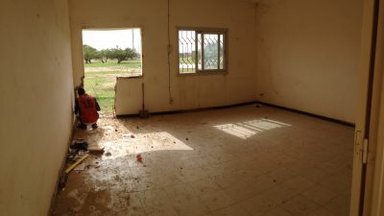 One year ago, Peace Corps Volunteer Danielle was sitting in her courtyard reading a book and chatting with her host family when one of her brothers asked her if she was studying. When she explained that she was reading for fun, her brother was confused and asked her to explain. They got into a discussion about the joy of reading for fun and the vast literary resources that exist in the world. He told her that he would never be able to read for fun because easy access to those kinds of books doesn't exist in Senegal. That conversation prompted Danielle to approach her community about the possibility of making reading for fun a reality. At the time, there were few literary materials available in the entire region, and community members widely believed that reading was something only done in a classroom, from a school-assigned text. But the community consensus was that a library was the next step for their development, as they clearly place high emphasis on education.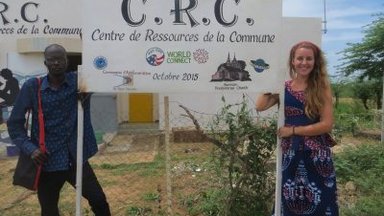 Talks with the Mayor's office further solidified the resolve to create an educational space for the community, and a clear leader emerged to take on the project: Ibrahima Thiam, a secretary in the Mayor's office. Ibrahima worked to create goals for a future Community Resource Center and helped outline a feasible budget. His actions were also key in procuring overwhelming support from the rest of the Mayor's staff and the promise of a donated room in the office. Witnessing the motivation in her community, Danielle applied to the U.S. organization World Connect for funding. In July of this year, funding was received to create the brand new Centre de Ressources de la Commune (CRC or Town Resource Center), and work was started immediately to turn the space into a large combination library and Internet café.
The creation of the CRC would not have been possible without the support of donations from partner organizations including World Connect, Rumson Presbyterian Church, Darien Book Aid, le Communauté d'Agglomeration du Pays Viennois, the U.S. Embassy, and the local Mayor's Office. Most importantly, this project could not have happened without the efforts of the community members themselves. Thanks to the community motivators, masons, carpenters, tailors, electricians, students, and many, many more, the region's first-ever resource center is a resounding success.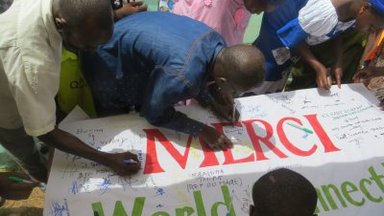 On October 14, 2015, after a large community ceremony consisting of speeches from respected members of the community, the CRC opened its doors to the public for the first time. The occasion was marked by community joy and hope for the future. After four months and countless hours of labor, the CRC boasts a library of over 450 books, a computer, printer, Internet access, and a large outdoor study area for students of the community. The space is managed by a young local woman, Fama Sow, and is open Monday-Saturday for all residents. After its first few weeks, the CRC has already become a village institution with large groups of children spending their days reading children's books under the shade structure and members of the community visiting frequently to read or play Scrabble. Education is said to be the key to development, and Danielle's hope is that access to literary materials will provide the resources this community needs to enact sustainable change.
---