A Moringa Christmas in Kaffrine: Three Peace Corps Volunteers go Mobile to Spread the Word about the Miracle Tree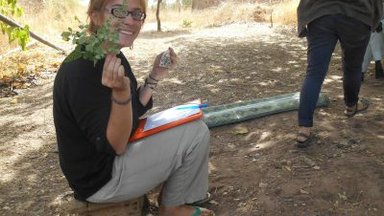 Between December 20 and 22, a trio of us Peace Corps Volunteers toured around the Koungheul region teaching about the agricultural, economic, and health benefits of Moringa oleifera.  By bush taxi, donkey cart, horse cart, and a 1950's-era station wagon, Min, Erica, and I traversed the Peanut Basin.  Our catchphrase was that Moringa is "easy, important for your family, and an income-generating opportunity."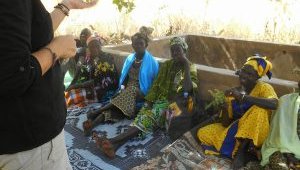 Moringa oleifera is a tree native to Africa and Asia that is easy to grow in Senegal and is high in nutrients.  Leaves, seeds, and powder from the tree are rich in protein, Vitamin A, Vitamin B, Vitamin C, Calcium, Iron, Magnesium, Phosphorous, Potassium, and Zinc.  A handful of leaves per child per day can fill almost a third of their protein requirement alone.  In development work, Moringa is used to combat maternal and youth malnutrition.  Agriculturally, Moringa helps combat desertification (helping to hold off the advancing Sahel Desert) and improves garden spaces.  Since Senegalese women are already familiar with cooking certain Moringa-based dishes, we decided there was a niche for us to fill!  Through small meetings targeting mothers who cook for their families and have small gardens, we met with 51 members in four communities.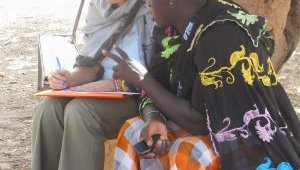 Erica, our Health Volunteer, explained the nutritional importance of Moringa for families.  The leaves are already used in rural Senegal's most common dinner dish, leaf sauce with millet couscous (mboum in Wolof).  On fancy occasions, Moringa leaves are used for fish stuffing in the national dish of fish, vegetables, and rice (ceeb u jen).  Erica explained how to increase the amount of Moringa in a family's diet by mixing Moringa powder into two other favorite Senegalese dishes, a peanut-based sauce on rice (maffe) or ground peanuts with rice (mbaxal).  Overcooking the leaves is a common problem, so we discussed proper preparation techniques.  The women who attended were excited to learn that an ingredient they are familiar with and find delicious can be so beneficial for their children.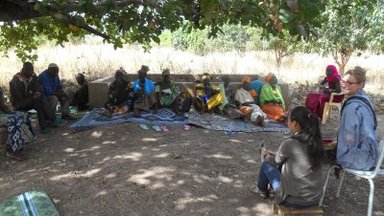 Agriculturally, I emphasized the ease of Moringa. Needing little water, it is the perfect tree for your backyard or garden.  It can go next to your shower, become a part of your live fence, or support your vegetable beds.  In the field, it can serve as an alley row between crops.  It increases soil water retention; provides dappled shade; and if that's not enough, it produces leaves, timber, and seeds that can be used for human or animal consumption. We provided small bags of Moringa seeds and our new volunteers will gain data collection experience in a couple months by checking how many trees each attendee planted and monitoring the cooking method adoption rates.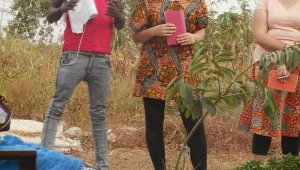 Finally, Min explained the economic aspect of Moringa.  This was unfamiliar to the women we spoke with.  We explained how the leaves, seeds, and powder can all also be sold.  The attendees agreed that fellow mothers would be the most likely clientele for Moringa leaves and powder, while farmers would most likely be interested in buying seeds.  Local markets, individual vendors within villages, and boutiques (small local stores) were designated as ideal locations for selling.  Perhaps the most fun part of each training was practicing marketing.  Min and I would act out a scenario as Moringa sellers in a market, then turn to the audience.  Women took turns practicing different marketing techniques (i.e. explaining the nutritional value or ease of cooking with the product) and men practiced advertising with seeds.  It was an excellent method to see how much material was retained!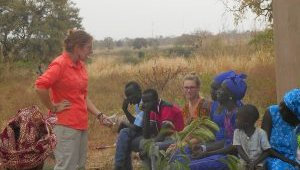 Beyond our own villages, we visited new volunteers' sites, providing them with an opportunity to practice mobilizing their communities and teaching in their local languages.  Tina Verrilli, Abby Augarten, and Rita Argus reveled in spontaneous applause from their communities after each of their brief introductory speeches.  After a tough few months of cultural adjustments and language struggles, it was wonderful to see their smiles when their host communities recognized their linguistic achievements!  Those of us who traveled around from village to village enjoyed the variety of the Senegalese countryside and hospitality.  We learned about wooden peanut-cracking paddles, new dance moves, and where the best breakfast ladies are set up across the region.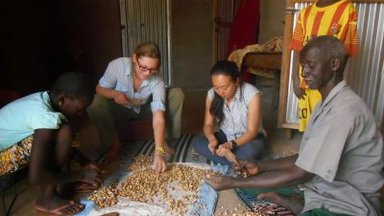 While the tour was a resounding success, there were more than a couple of snags.  Though we planned the day for our visits months in advance, a last minute political rally required the attendance of my entire village.  So we cancelled the first stop in the tour.  More last minute local plans meant we had to cancel our third stop.  Halfway through Day Two, Min was curled up in pain from a terrible and mysterious illness.  Our horse-cart got a flat tire.  Our station wagon driver mutinied on us in a rural village, demanding extra payment because the women were taking "too long" to cook lunch.  And we almost left Tina's cat in the wrong village.  But all is well now.  We'll reschedule the canceled stops.  Min made it home and is healing.  The tire has been fixed.  And we made it to our regional house in one piece–including the cat.
---