"Imagine yourself swimming into a river. You want to catch a big fish you see 1 kilometer away, so you swim with all your strength against the strong current."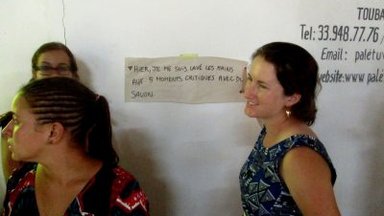 This is El Hadj Diop, whose tremendous efforts to reduce the burden of malaria in his community have been lauded and replicated around the continent, speaking to participants of a training hosted by Senegal's volunteer-led malaria committee, Stomp Senegal.

Long a pioneer in the fight against malaria, Stomp Senegal is constantly developing new ways to train and develop malaria interventions. In an effort to increase malaria training for non-health sector volunteers, the team decided to conduct two-day intensive Mini Malaria Boot Camp trainings for Peace Corps Volunteers and Senegalese community counterparts in 3 regions of Senegal.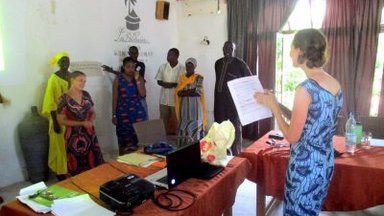 The Mini Boot Camp followed the model of the intensive Stomp Out Malaria in Africa "Boot Camp" training held thrice yearly in Senegal for Peace Corps staff and Volunteers from 23 African countries, both in content and form. The training included Peace Corps Volunteer trainers as well as facilitators from partner organizations also engaged in the fight against malaria in Senegal. Speakers included El Hadj Diop, President of the community-based organization Sope Naby, Madame Gnagna Dieng Sow, focal point of MACEPA in the northern city Richard Toll, and representatives from the NGO Africare. The project was funded by the Small Projects Assistance (SPA) Program.
100% of the population in Senegal is at risk of falling ill with malaria. Yet, the levels of parasitism in Senegal vary greatly by region, and so the session topics were altered slightly to fit the different environments.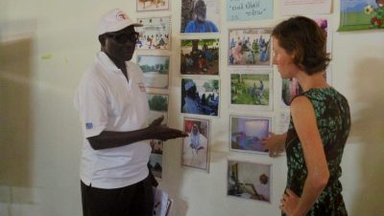 By including focused training sessions about the malaria burden in Senegal, the biology and transmission of malaria, and behavior change communication, volunteers and counterparts in each of the selected regions were at measure to acquire the valuable knowledge and skills necessary to implement malaria projects.
The mini boot camp directly targeted service providers in the health sector. Peace Corps Volunteer and counterpart participants received skills and training in malaria prevention and control in order to become better community mobilizers and educators. The Stomp team is currently working to support participants in the planning, implementation, monitoring, and evaluation of their community projects and events.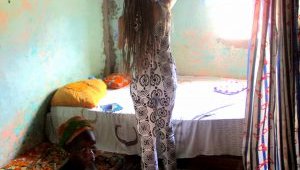 Volunteers and counterparts also drafted site action plans for specific malaria-related projects and activities they planned to implement upon returning to their communities. The follow-up and data collection for these action plans is currently underway.
In addition, the training served as a recommitment exercise: like-minded individuals with diverse skills and expertise came together to re-energize their commitment to eliminate malaria from Senegal, and to infuse their toolkit with fresh skills and ideas.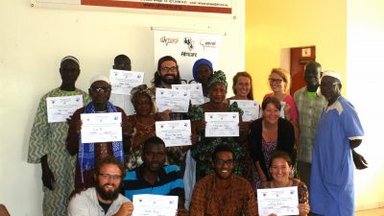 More than anyone, El Hadj knows the importance of dedication and commitment in this uphill battle.
"You swim and swim, and you finally catch the fish with your bare hands. You have reached your goal, but the hardest work remains to be completed—getting yourself and this big fish back to shore. We have made great strides in the fight against malaria. I have worked for over 15 years to bring the malaria burden in Thienaba Seck close to 0%, but the hardest work—to maintain this success and help others to reach the same goal—still remains."