Many Hands Make Light Work: Peace Corps Senegal Promotes Partnerships to Achieve a Greater Impact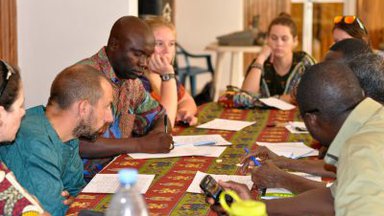 On January 28th, Tambacounda Region Peace Corps Volunteers held a meeting with local NGOs and government partners to start the conversation about joint development work in the area. With the help of Peace Corps Senegal staff members, including Country Director Cheryl Faye, the day was filled with relationship building, networking, and information sharing. Each organization shared their work and then engaged in breakout discussions about sector specific problems and solutions. 
Participants included: USAID, ASBEF, Africare, RTS Tamba, JICA, World Vision, SODEFITEX, Tambacounda Chamber of Commerce, and GADEC, among others. Opening the lines of communication between all of these parties will not only make the jobs of local partners and Peace Corps volunteers easier, but it will hopefully make everyone's efforts more impactful in the right ways.