Mangrove Reforestation 2015: Building Awareness of an Environmental Treasure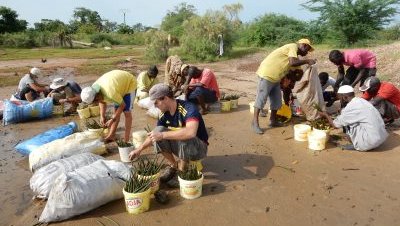 August and September in Fatick sit squarely within rainy season, when the sticky heat seems to turn up the volume on all the colors of the landscape: rich red laterite roads crisscrossing riotous green fields against a brilliant blue sky.  But for the last four years in the marshy southwestern corner of the region, August and September have signified another season: that of mangrove restoration.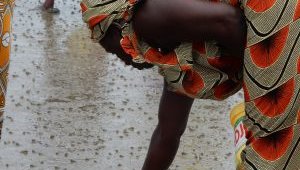 The importance of mangroves to the delta ecosystem cannot be understated.  They provide habitat for countless species of birds and fish, their roots help prevent erosion in the estuarine waterways, and their natural beauty is a magnet for ecotourists.  But mangrove forests all over the world are in trouble.  Their deforestation rates are 3-5 times higher than those of other types of forests, including rain forests, and it is estimated that half of the world's all-time mangrove coverage has been lost.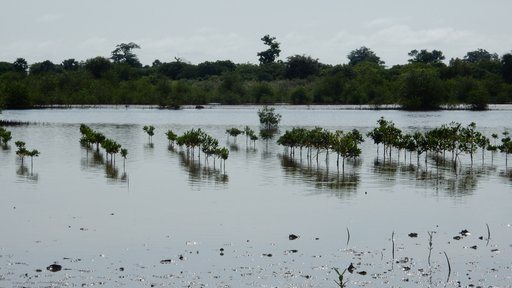 The global shrimping industry is one of the main threats to mangroves in other parts of the world–its devastating effects can be seen from space–but in Senegal, the trees are cut down for firewood or to make way for development and salt production.  Road construction in the marshes has also played a part, damming up waterways and interrupting tidal flows, which are a key feature of healthy mangrove habitat.  All of these factors, plus a drought in the 1980's, have led to the loss of 45,000 hectares of mangrove forest since the 1970's, or nearly 25% of the total mangrove coverage in Senegal.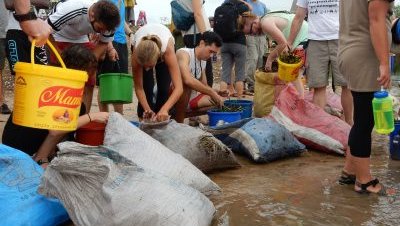 In 2011, Peace Corps Volunteers recognized the need to take action and have been leading annual reforestation efforts ever since.  On September 5th, 47 volunteers from all over the country descended on the beautiful, mangrove-fringed outskirts of Sokone for a weekend of learning about, restoring, and enjoying the mangroves. In addition to the outright goals of the annual reforestation event, an added benefit is the boost to local businesses through ecotourism.  Volunteers enjoyed two days of peace, quiet, and hospitality at a local campement, during which they received a crash course in how to properly out plant a mangrove propagule, as well as an overview of the many threats facing mangrove ecosystems in Senegal and worldwide.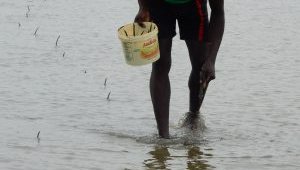 On the morning of the 6th, they waded into the water and worked in three teams to out plant approximately 7,000 propagules.  Despite the careful planning of volunteer organizers Brennan and Rob, it wasn't possible to collect the 25,000 propagules they had hoped to plant in time for the Peace Corps event.  But they were not to be deterred.  They decided to hold a second event, using local volunteers, once they were able to collect more propagules.
The second out planting effort, which took place on October 1st, was an unqualified success.  25 volunteers from the local partner organization AGIR (French for "to take action") Delta Saloum turned out in force, and they came bearing gifts: about 15,000 propagules they had collected and transported from Toubacouta.  Together with five Toubacouta volunteers, they returned to the site and finished the work begun in September.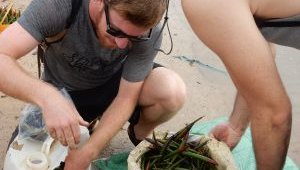 When all was said and done, the combined reforestation efforts for this year covered an area of about 5 hectares, and there is every indication that it will give way to healthy trees.  While last year's volunteers managed to plant about 30,000 propagules, the survival rate was low, so this year's organizers were careful to scout out the perfect location, taking into account soil conditions and tidal patterns.  Their research seems to have paid off, since some of the trees planted in early September have already begun to sprout leaves!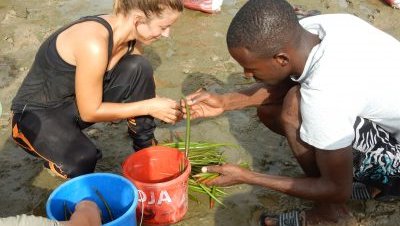 The continuing enthusiasm from volunteers and local volunteers alike indicates that the mangrove reforestation will remain an annual tradition for years to come, but they're not the only ones who are making the effort.  After seeing what volunteers were doing back in September, a local campement owner decided to plant some mangroves on his own property.  It would seem that mangrove reforestation has taken root in the area in more ways than one.