Mangrove Reforestation 2014: 30,000 Mangroves Strong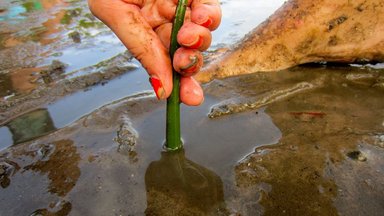 SALOUM RIVER DELTA--35 Volunteers and staff joined over 40 local work partners to plant 30,000 mangrove propagules just outside of Sokone 23 August 2014. For the fourth consecutive year, Peace Corps Volunteers in the Fatick Region have led the charge to educate and empower communities to reforest their Delta.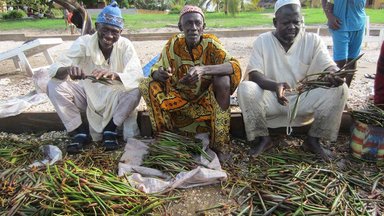 The Saloum River Delta is an incredibly biodiverse ecosystem – it is home to more than 100 species of fish, manatees, dolphins, turtles and birds. The red mangrove tree, more than enrich the ecosystem, it also impacts the lives of the people living in and around the Delta. Residents of the Fatick Region rely on mangroves for firewood and construction, as the wood is both slow burning and rot resistant. In addition, mangroves help prevent erosion off the mainland and island regions. They also act as filters, cleaning the water of silt and toxins. Finally, healthy mangroves help sustain vigorous fish and oyster populations. The long, fingerlike root systems also act as a nursery for young fish, providing much needed protection from larger predators. If the mangroves are cut down at too rapid a rate, fish populations and biodiversity generally will suffer.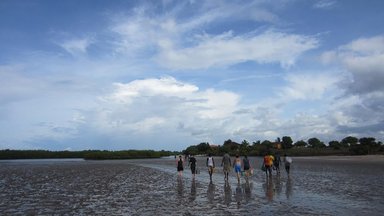 Today the mangroves in the Saloum River Delta are being destroyed at a alarming pace. Where the mangrove forests once extended eastward into the Kaolack Region, now only salt flats and isolated pockets of trees remain.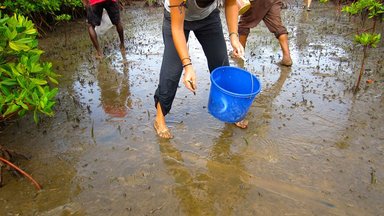 It is in an attempt to rehabilitate these areas that Peace Corps Volunteers first began organizing an annual reforestation event in 2011. In the past, volunteers have worked in the Toubacouta Region but this year moved further north to Sokone. Members of women's groups, young men, the village chief, and one religious leader all helped plant the propagules (by simply inserting them into the mud at one meter spacing). Next year, volunteers plan to return to the area to monitor this year's work, and continue reforesting.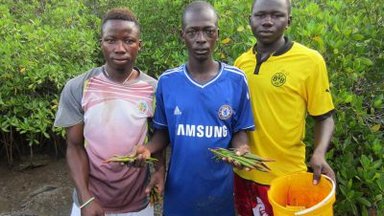 The chief of the nearby community shared a telling story with the participating volunteers and community members. When he was a young man, he said, large ships were able to enter Sokone from the open ocean. Now, because of the soil erosion resulting from mangroves destruction, the channels are no longer deep enough to support anything larger than a small motor boat. It is the hope of the Peace Corps that through continued, collaborative reforestation efforts with local communities, the mangroves forests will once again thrive.