Looking Back on the Early Days of Peace Corps Senegal.
The first group of Peace Corps Volunteers landed in Senegal in February 1963.  The group included athletic coaches, and specialists in rural development and well digging. With US-based training under their belts, the early groups of Volunteers could hardly imagine what awaited them in Senegal. Over the years Peace Corps training has shifted from stateside training to exclusively Senegal-based. These first Volunteers were trailblazers and set the stage for years to come. Read their first-hand accounts of Peace Corps Service in the 1960's.
---
Janet Ghattas, 1963-1965
We all took the Peace Corps exam which was required in those years. It was a combination of psychological and language aptitude testing. Training was done in the USA at that time.  We were accepted 70 strong and reported to Berea College in Berea, Kentucky for a 10-week training program in June 1963. The training then not only consisted of classes in government and history and Wolof language, but heavy French and a rigorous morning athletic training: running around a football field at 5 am followed by rope climbing and monkey rings swinging in the gym. There were mandatory hikes in the hills around Berea and soccer matches with State Department visitors from West Africa. We were scrutinized by psychologists and psychiatrists. Halfway through the 10 weeks, half the group were "Selected Out" and sent home late one night. We never knew why. We were supposed to report to Puerto Rico for Survival Training but there was an outbreak of Dengue Fever there. As a result, we were sent to Brattleboro, Vermont to the School for International Training/ Experiment in International Living for intensive training in the French language. At the end of the 10 weeks, we had a few days off in NYC and then took off for Dakar, Senegal via Lisbon, Portugal to arrive in early September 1963. We were 35 people in TEFL, well digging, rural development and athletic coaching. We had a stage (training) at the University Cheikh Anta Diop (UCAD) and then were transported to our respective towns. I was assigned to the Cours Complementaires schools in Thies and then in the second year to the Mission School in Joal. The schools then were sex segregated.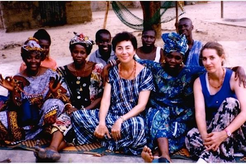 ---
Geoffrey Howard, 1963-1965
Geoffery Howard entered the Peace Corps at the age of 20, heading off to Senegal in West Africa,
It's the fall of 1963 we are four PCVs sharing a house in Kaolack. One night a small boy knocks on our door and says, "Le chef defa dey."
OK, "the chief is dead," but what is he talking about?  Someone says "I know, he thinks all toubabs are French, So De Gaulle must have died!"
This makes sense until we look at the boy and he's shaking his head. "Didit," he says,  "votre chef!"  Someone says, "He can't mean Kennedy, can he??" And when the kid hears that name, he nods his head vigorously and says "Wow! Wow!  Votre chef!"
Sometime the next morning, there's another knock on our door. It's the Proviseur of the Lycée, who tells us to get nicely dressed, because people will be coming to pay their respects. As he speaks, we can see workers from the Lycée setting up benches in our small courtyard.  Soon, people start arriving, men, women, some families with children, all dressed in boubous and robes. They come in, shake each of our hands, then silently take a seat. They stay for about 5 minutes, then get up, nod to us and go out the gate.  This goes on all day … hundreds and hundreds of people we don't know who just want us to know that they too are mourning this man and that we may be far from home, but we're not alone.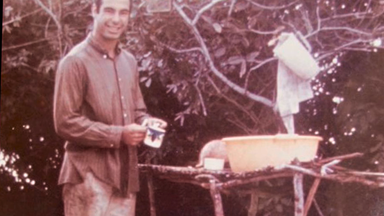 hundreds and hundreds of people we don't know who just want us to know that they too are mourning this man and that we may be far from home, but we're not alone.
---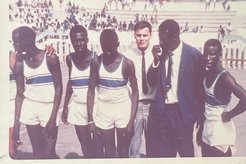 Carl Decaspers, 1963-1965
Most of my time in Saint Louis (on the north coast of Senegal) was spent coaching basketball at two boys' high schools, a private girls' prep school, and an in-town men's team. Delightful surprises included (1) working briefly with the Senegalese Olympic Team and (2) hosting a State Department tour for three NBA stars. Often my apartment became a gathering place for my players who wanted to practice English. Since I needed to work on my French and Wolof as well, it was a win-win situation. Sometimes learning took a back seat to "partying"- American music, African dancing and Thiebugen, the Senegalese national dish! Two of my teams won national championships in Dakar and one of my players, Seynabou Ka, promised to visit me in America someday. Forty-two years later she kept her promise!  An excellent student and hardworking player, she had big goals. We had quite a reunion at her daughter Salma Diallo Dime's home in Silver Spring, MD.  You can imagine how happy I was to learn about her accomplishments.
Sometimes learning took a back seat to "partying"- American music, African dancing and Thiebugen, the Senegalese national dish!
---
John Hand, 1962-1964
We had to figure out things pretty much on our own. There were no volunteers to give us tips and help us on our way. All of our training took place at the University of Massachusetts at Amherst. Two thirds of our training was in technical skills and French; we had sessions on first aid, lots of physical conditioning, such as running miles and an obstacle course in the early mornings, history of West Africa, American cultural and political institutions; but no training in Senegal's local languages.
And, in-country, there were no seminars or conferences and no regional houses where volunteers could exchange ideas and techniques. Letters home took two to three weeks each way and not all of them made it. There were few NGOs in Senegal, so when I needed technical assistance, for example, to confirm the safety of a plan to build a large free-standing wall that would stand up against storms and winter's harmattan I had to find help in the U.S. That process took considerable time. Phone calls home were as rare as apple pie with ice cream in Senegal.