Local Soap-Making: Battling Infection and Poverty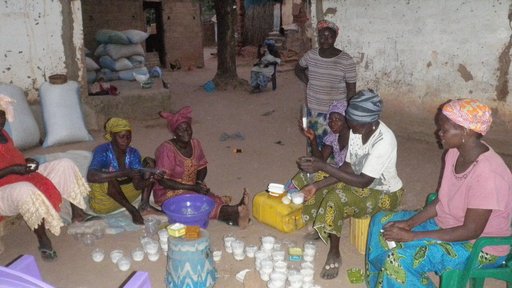 Big things are happening in a small Seerer village in the Nioro department of Kaolack. Generally an agriculture-based economy, most people of the village make a modest income selling crops, particularly peanuts, for which the region is famed.  Wanting to expand their sources of income, Groupe Dioubo, the village's women's group, approached Alejandra, their local Health Volunteer, saying they were interested in making soap. Seeing an opportunity for cross-sectoral collaboration, Alejandra called in Community Economic Development Volunteer Sarah, who'd had experience in soap making.
Together, they designed a week-long intensive training combining objectives from both the Health and Community Economic Development programs, which they held in mid-December.
The women showed great enthusiasm from the outset, shouting out answers as Alejandra quizzed them on the importance of hand washing. They then learned to make basic palm oil soap and high-end scented shea butter soap. The group maintained their level of enthusiasm throughout the training, as they learned about common skin diseases and treatments, business formalization, cashbook accounting, and profit calculation.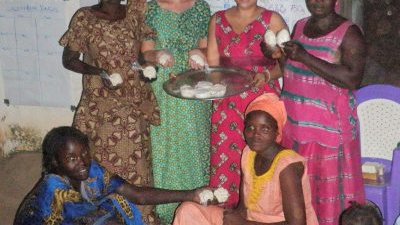 The third day of the training concluded with a group discussion to create a marketing plan to sell soap, with Sarah recording their ideas. The women used their health and hygiene knowledge to create an effective pitch that they plan to use when selling at the luumo, or weekly market, in a neighboring town. They also came up with ideas for attractive packaging to better promote their product.
On the final day, the group calculated their potential profits for the 80 pieces of soap produced over the course of the training. They met up again two weeks later, when the soap was dry and ready to sell. The women of Groupe Dioubo have since begun selling both simple and high-end soaps at the weekly markets in two nearby towns. Once the soap is sold, they plan to reinvest their profits in supplies and business formalization fees.