Kolda Peace Corps Volunteer Throw a Malaria "Block Party"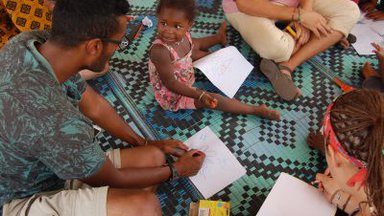 The words "malaria" and "party" are not often found in the same sentence, but as Peace Corps Africa's Malaria Month draws to a close, Peace Corps Volunteers in the Kolda region went out with a bang by hosting a neighborhood malaria block party outside the regional house in the city of Kolda.  Health volunteer Randi organized the event, with the assistance of fellow health volunteers Nathan and Lexi.  She explained that she got the idea because, though volunteers have maintained the regional house in the Sikilo neighborhood for many years, there has been very little engagement of the people in the surrounding area.  With this event, she saw an opportunity to not only make Peace Corps visible to the community, but also collaborate with a local partner (the Red Cross) and disseminate information about malaria.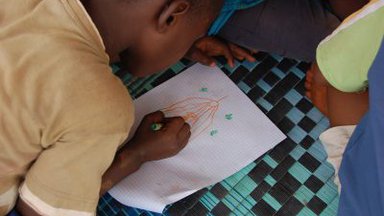 Under a tent in front of the house, volunteers set up a sound system to play educational radio programs.  There were also stations for coloring, face painting, and bed net beautification and repair.  Volunteers also led a game of Bed Net Ball and handed out malaria fact sheets to passersby.  The centerpiece of the event was a malaria "promise banner," which visitors signed and pledged to take an active part in eliminating malaria in their community.
By the end of the day, 23 men, 19 women, and 60 children came and went, walking away that much more aware of the Peace Corps and preventing malaria.
---