Kids Will Be Kids... If You Only Give Them The Chance
Talibés are almost as ubiquitous in Senegalese cities as the morning call to prayer, echoing out of static-y loudspeakers from one side of town to the other.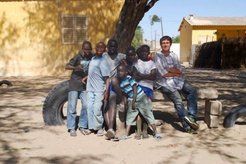 But for many observers, talibés represent a darker side of Islamic practice in Senegal. They are the young boys who live and study at daaras (Koranic schools) overseen by a marabout (Koranic teacher), but they are most often recognized for their practice of alms—begging for food and small change in the streets of just about every city and town in the country.

The daaras differ greatly in their emphasis on actual study versus begging, but certain things are common across them all. The boys, sent to the daaras from far-off rural villages and sometimes neighboring countries, may go for years without seeing their families. And as serious students of the Koran, they don't have the leisure of free time and recreation, or the chance to fool around and play in a carefree environment. The nature of this lifestyle can leave the boys exposed to health risks and vulnerable to unscrupulous persons, as they are largely unsupervised when out begging, day and night.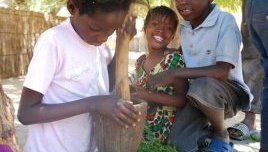 While they operate throughout Senegal, daaras are especially concentrated in northern cities, where the overwhelming presence of talibés can't be ignored. It's in two of the largest cities of the north, St. Louis and Ourossogui, that Peace Corps volunteers organized events dedicated solely to these at-risk children. The event, publicized as a two-day soccer tournament with accompanying activities and workshops, serves as an opportunity to give the talibés what every young kid deserves: a chance to play and enjoy themselves, explore and ask questions, worry-free.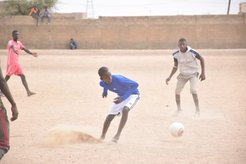 Last week marked the 5th annual Talibé Soccer Tournament in St. Louis, while in January, Ourossogui celebrated their first-ever rendition of the event. Each city gathered over 150 kids, bringing with them an inexhaustible supply of spirited energy and fervent curiosity. With the blessing and partnership of local marabouts and community members, the events were chocked full of a mix of fun and educational sessions—everything from obstacle races to hands-on micro-gardening workshops, from dental hygiene stations to face-painting. Impromptu dance parties broke out when the DJ blasted contemporary mballax or pop favorites from the sidelines, where talibés showed off their impressive dance moves.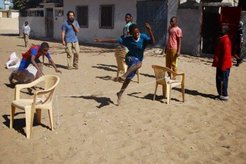 The success for these tournaments was made possible through collaboration and support from the St. Louis Youth Center and the Mayor's Office, several development agencies, Ourossogui High School , and the organizational leaderships of Peace Corps Volunteers Lisa, Taylor, Matthew, and Alex. With such cooperation across sectors and organizations in the future, we hope to provide an opportunity for talibés to be just kids for a day, for years to come.
Check out this video from the Ourossogui event!
Peace Corps volunteers designed an event to bring awareness to issues surrounding talibe, and to dedicate a day to giving these children much needed attention, with activities ranging from fun and games, to learning useful life skills.