Kedougou Welcomes Ambassador Zumwalt on Community Radio
On a recent visit to the mountainous region of Kedougou in southern Senegal, Ambassador James Zumwalt took time out of his schedule for an interview on community radio with Returned Peace Corps Volunteer Laurie.

The Ambassador also traveled around the region, checking out projects by Peace Corps Volunteers and other organizations focusing on key issues like malaria and food security.
Check out photos of the Ambassador's trip and listen to the radio segment, where Laurie introduces him in the local language, Pullo Fuuta, and continues the rest of the interview in French.
---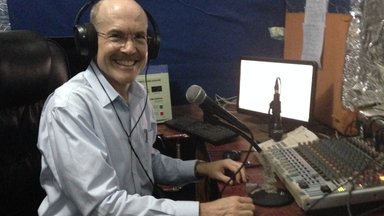 Laurie) What are you doing in Kedougou? Why did you come?
Zumwalt) First, I never miss an opportunity to travel in Senegal and meet people from each part of the country and hear about their unique customs and interests. That is by far, the greatest part of these visits.
I've also come because we have many projects in area.
Of course we have 28 volunteers in the region – including yourself, working on a variety of programs from agroforestry to business development and health care.
One of the President's priorities has been to improve the health system worldwide and we have done a lot of work in this area.  USAID has worked closely with the Government of Senegal to build and strengthen the health system at all levels—local, district, regional, and national.   In Kedougou , the team has focused on malaria, particularly infant mortality, as well as expanding the community health program, which supports all of the country's functional, community Health Huts.  Trained health care workers have provided essential newborn care to thousands of babies and mothers across Kedougou.
To combat food insecurity, USAID has implemented Yaajeende in Kedougou and other areas to  accelerate the participation of the very poor in rural economic growth and improve the key dimensions of food security – access, availability, utilization and stability.
And finally, I'll be visiting three Embassy Self Help Grantees:  An organic waste recycling program, a women's group mill and generator, and $7,000 worth of solar panels at a school that now has regular power and established an information technology program with internet access.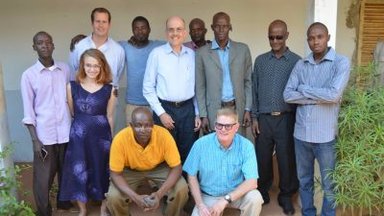 Laurie) What are your thoughts generally on Senegal and the bilateral relationship?

Zumwalt) The United States sees Senegal as a stable, democratic leader in West Africa. Under civilian rule throughout its 54 years of independence, Senegal is known for uninterrupted, peaceful transfers of power.
Senegal is recognized for its long tradition of religious tolerance and inter-ethnic harmony.  Religious leaders of all faiths have great influence in Senegalese society.  They have played a significant role in curbing the influence of violent extremism that has taken root elsewhere in the region.
Senegal is one of our most important partners in francophone Africa.  Our shared commitment to democracy, security, and prosperity makes us close friends.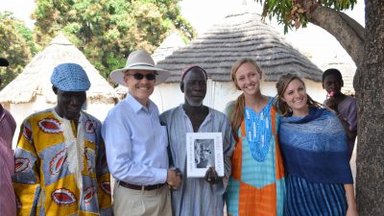 Laurie) What are the big issues the US government is working on with Senegal?

Zumwalt) The energy sector is vital to increasing economic growth and several U.S. firms are helping Senegal to expand energy supply while lowering costs and reducing energy subsidies. Following President Obama's decision to expand his Power Africa initiative across the continent, the U.S. is working to make Power Africa tools and resources available to facilitate energy investment in Senegal and the West Africa region.
The $540 million Millennium Challenge Corporation (MCC) Compact in Senegal, which ended in December, was aimed at reducing poverty and increasing economic growth by unlocking the country's agricultural productivity and expanding access to markets and services in the north and the south.  Recently, Senegal was deemed eligible for a second Compact.
Last summer, we signed the U.S. Trade Africa initiative with Senegal.  Trade Africa aligns with Senegal's own goals to build infrastructure and expand production capabilities and create jobs. Trade Africa, along with Power Africa, will be instrumental in helping Senegal take advantage of the Africa Growth and Opportunity Act (AGOA) that was recently renewed by increasing Senegal's capacity to conduct international commerce.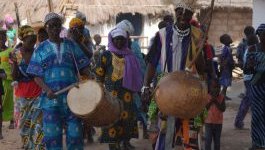 Laurie) As you may know literacy is extremely low here and many girls leave school early to work or get married. Can you share your thoughts on the importance of education, especially for younger girls? What impact can education have on their family and society as a whole?

Zumwalt) Education is very important for every child whether boy or girl. It is sad that some communities still discriminate against the education of the girl child. About 57 million children around the world are not going to school. Girls make up 55% of the total. An African proverb says, "If we educate a boy, we educate one person. If we educate a girl, we educate a family – and a whole nation." By sending a girl to school, she is far more likely to ensure that her children also receive an education. As many claim, investing in a girl's education is investing in a nation.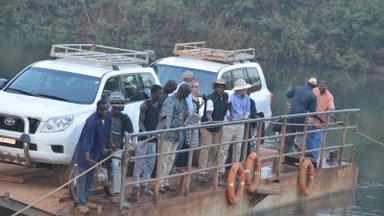 Laurie) Can you speak about efforts the US government is making to combat Trafficking in Persons?

Zumwalt) The Trafficking in Persons (TIP) Report which we release annually is the U.S. Government's principal diplomatic tool to engage foreign governments on human trafficking.
It is also the world's most comprehensive resource of governmental anti-human trafficking efforts and our commitment to global leadership on this key human rights and law enforcement issue.
The United States considers Senegal a source, transit, and destination country for children and women who are subjected to forced labor and sex trafficking and some NGOs have told us that it is particularly a problem in Kedougou.
We have recommended to the government to more vigorously investigate and prosecute trafficking offenses, and convict and punish trafficking offenders, including those who exploit children in forced begging; provide adequate funding to expand government-funded shelters or partner with international organizations or NGOs to provide additional care options for victims and implement a national action plan on forced child labor, among other items.