Kaffrine Master Farm Hosts Nutrition Camp; Agriculture Training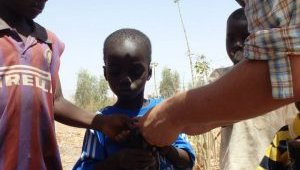 The Katakel Master Farm hosted a garden and nutrition training 28 April 2014. Volunteers in the Kaffrine region invited women and children from the surrounding communities to participate. The day began with a lesson on food groups, led by Peace Corps Senegal Health Volunteers. The children then ran a relay, taking turns carrying bowls of food on their heads to pictures of the human body where they placed it on the body part it benefited most.


Volunteers then broke participants into four groups. They rotated through learning stations filling tree sacks for tree nurseries, measuring hexagonal spacing with garden bed mulching, hand washing and another review of the food groups. The group finished up the day with a healthy lunch of rice, fish, and veggie sauce and of course, tea. Excellent work zone collaboration team Kaffrine!