Jane Goodall's Inaugural Visit to Senegal: Praise for Peace Corps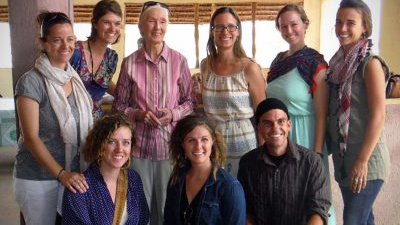 Legendary primatologist Dr. Jane Goodall made her first trip to Senegal last week. She visited The Jane Goodall Institute Spain's (IJGE) new research station in the village of Dindefelo in Senegal's Kedougou region Thursday 20 February 2014. Ten lucky Peace Corps/Senegal Volunteers were invited to join the festivities and were granted a private audience with Dr. Goodall.
These volunteers spent an hour discussing their projects with Dr. Goodall who was full of praise for their work in the region and was eager to answer their questions. She expressed her interest in future collaboration with Peace Corps Senegal through the Jane Goodall Institute's Roots and Shoots youth program.
During the IJGE ceremony local chiefs and government officials delivered speeches in Pulaar, French and English to a crowd of over 150. When Dr. Goodall addressed the audience she said she wanted to add one more language to the mix and proceeded to demonstrate the chimpanzee calls she's famously researched at Gombe National Park in Tanzania since the 1960s. IJGE conducts research in Senegal to contribute to the conversation of chimpanzees and sustainable development in the region of Kedougou.
According to the Jane Goodall Institute website, Dr. Goodall travels more than 300 days a year "working to save chimpanzees and to empower people-young and old-to do what they can for a better world." Peace Corps Senegal shares your vision, Dr. Goodall, and we look forward to collaborating with you in the future.
For more information visit http://rootsandshoots.org/and http://www.janegoodall.org/