It's All About Behavior: Agriculture Volunteers in Kolda are Teaching Earthworks in a New Way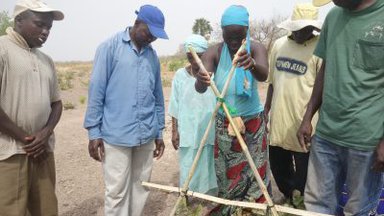 Designing for Behavior Change (DBC) is a hot topic, especially in the health sector, where case studies abound. However, despite the obvious benefits of the approach, relatively few examples exist in agriculture.  Following the January Behavior Change Summit, where volunteers and their counterparts received intensive training on DBC, four Sustainable Agriculture Volunteers in the Kolda region–Gwen, Amanda, Jacob and Brad–decided to apply the newfound knowledge to the set of water harvesting and erosion control techniques known as earthworks.  As extension agents, they try day after day to persuade their work partners that the techniques they are extending are truly useful, yet their efforts do not always lead to implementation. DBC specifically targets this problem, and these Kolda Volunteers wanted to see just how effective it could be.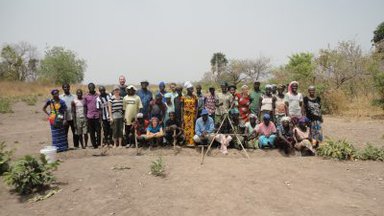 The goal of the project was to address some of the soil erosion and water conservation problems farmers in Kolda face. But these volunteers didn't want to hold another run-of-the-mill training tour that would, in all likelihood, be forgotten soon after it was done; they wanted things to actually change. Inspired by the training of trainers (TOT) model and the DBC framework, they came up with something different, and designed a tour based on hard data and tested theory.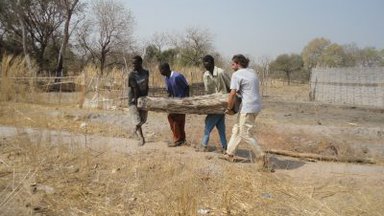 The DBC framework focuses on identifying the determinants of doers and non-doers. Simply put, volunteers wanted to see why some people do earthworks, and others don't. In February, they undertook a 90-person barrier analysis survey aimed at identifying the barriers and motivators behind creating earthworks. Led by Peace Corps Volunteer Gwen, they coded and tabulated the survey responses to identify common themes. The results were clear: among the biggest barriers in the region for constructing earthworks was the perception that water erosion was not a serious risk, and the perception that individuals lacked the skills and knowledge needed in order to construct the projects.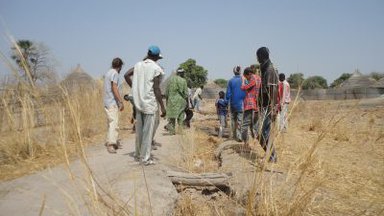 With this knowledge, they designed a training series to address the main barriers. Between March 8-15, they traveled with their work partners to each other's Peace Corps sites in order to extend earthworks techniques that could be easily adopted by their communities. They focused on teaching a set of soft-scaping techniques that slow, spread, and sink water on agricultural landscapes.  They also visited previous earthwork demonstrations, which allowed counterparts to see the benefits of berm construction for themselves. Work partners there talked about how serious the erosion problem had become before implementing earthworks and could attest to the effectiveness of the techniques. The participants were astounded by the visible improvements in the land only a couple of years after earthworks implementation.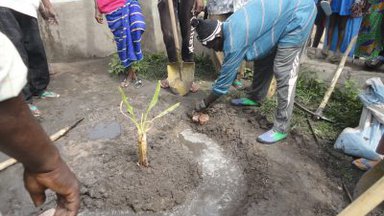 The tour itself consisted of four work days and four travel days, which were supplemented by additional trainings. By the end, Peace Corps Volunteer, Programming and Training Assistant Youssoupha Boye, counterparts, and community members had created 2 contour berms (a long, low, leveled mound that allows water to enter and remain in a landscape more evenly), 16 check dams, 3 terrace gardens (leveled shelves of soil used on sloped land where gardening space is limited), and 4 boomerang berms (semi-circle berms that capture excess water downslope).  At the same time, they delivered 4 supplemental trainings in nutrition, economic development, and the nutrition and cultivation of moringa. Six counterparts and over 125 community members were trained. As the tour drew to a close, counterparts had become earthworks champions and were eager to show off what they had learned.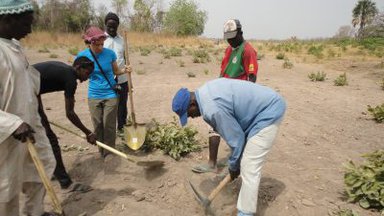 It's still too early to know how successful the tour was in making lasting change in these communities. Subsequent follow-ups will provide vital feedback on the whole process, but from their own impressions and the feedback they received from their communities, these volunteers feel that the tour was a hit and will not soon be forgotten in Kolda.
---