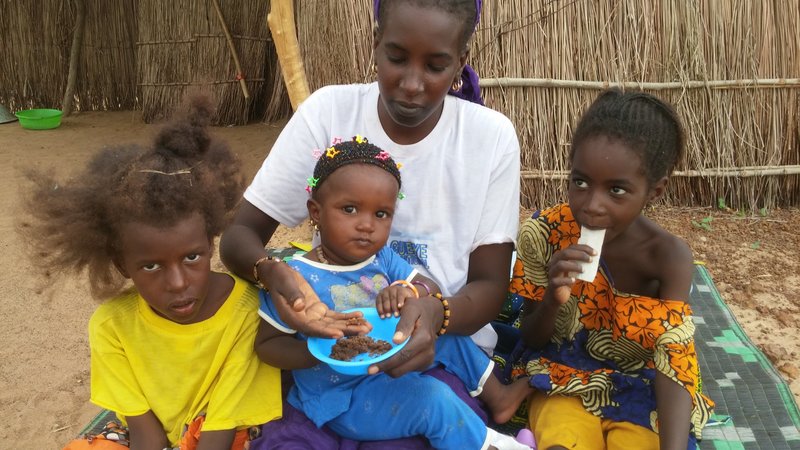 Aug. 20, 2018
On July 15, 2017, at around 7:30 AM, a little girl named Mariama was born at the health facility in a tiny Pulaar herding village in northern Senegal.  
This little girl, who the attending midwife named after the local Peace Corps Volunteer, Jordyn (whose Senegalese name is Mariama), recently turned one.  So, Jordyn showed up at her house on her namesake's birthday with a little cake and a gift: a baby hat.  She sang "Joyeux Anniversaire" (the French version of Happy Birthday), wished her well for the upcoming year, and recounted to her family the story of Mariama's birth.  The family was admittedly a little confused at first, but happily shared the cake among Mariama's older sisters, laughed at Jordyn's version of the story of her birth, and learned a little bit about American culture along the way. 
Throughout her service Jordyn has enjoyed celebrating young children's birthdays this way as a means of cultural exchange. Birthdays are not traditionally celebrated in Senegal, and in many rural communities, it is rare for a person to know his or her date of birth, let alone that of anyone else in the family.  Celebrating a baby's birthday supports Jordyn's work as a maternal and child health volunteer because it encourages a mother to commit to memory a baby's exact age; this is important for issues like timely vaccinations and proper nutrition.  And as a female volunteer serving in a culture where a girl's biggest celebration is typically her wedding day, often while still a teenager, she has come to see the value of celebrating girls for being who they are, starting when they are young.  One never sees a smile so big and laughter so joyous than when a family surrounds a little girl with love.  
On October 25, 2017 at around 3:00 AM, a little girl named Maryam was born to Jordyn's host brother and his wife.  On that date this year, Jordyn knows exactly where she plans to be!