Hand Washing in Kaolack, Senegal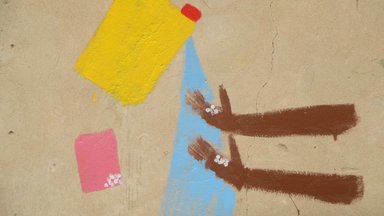 The first preventable child death that I felt up close arrived with a knock on my door early one village morning. My yaay (host mother) woke me to say that baby Fatou from next door had died at dawn. She had been sick with a cold. Everyone was gathering at the neighbor's house to offer condolences.
Each year, thousands of Senegalese children under five years of age die of diarrheal diseases and acute respiratory infections; a huge portion of these deaths could be prevented by washing hands adequately with soap and running water. However, in rural Senegal, it is customary for a family to only rinse their hands in a single communal bowl of water before sharing a meal.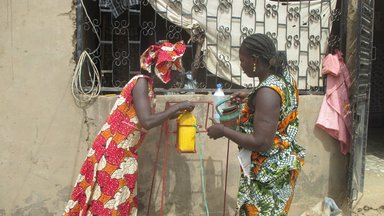 Knowing for sure that I wanted to spend my service concentrating on hygiene and sanitation, I talked through ideas with my work partner, Ami, a highly-experienced community health worker. Together, we decided that there were three main reasons why people didn't regularly wash their hands with soap, even though they know it is better for health: One, many people still do not make the fecal-oral route connection; two, washing in a communal bowl is a long-time tradition and old habits die hard; and three, it is easier to dip one's hands in a bowl of water than to find a water kettle, have someone to pour water from it, and unearth the soap from a locked cupboard. 
The two-step solution? One, interactive and colorful ways to empower community members to teach themselves about hygiene; and two, hardware that will make washing with soap not only easier, but also attractive and fun. Introduce: iron "tippy taps," locally made metal hand-washing stations that hold soap and pour water from a container with the press of a foot pedal.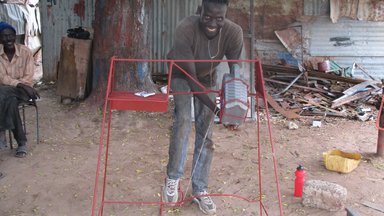 Ami and I took the idea to mayors, healthcare providers and village chiefs for their approval. After a few months of grant-writing and fundraising, the project took off. We decided to implement a tour of six villages, partnering with their community health workers. I designed visual aid cards to be used for interactive health-awareness games and supported Ami in training the health workers on how to use them. Monitored and supervised by Ami, the health workers facilitated several health talks and home visits in their communities using the cards. Meanwhile, a local metal worker achieved the unexpected in building 60 iron tippy taps in three weeks. After the health workers completed their assigned activities, each village had ten iron tippy taps to serve as examples of hand washing stations.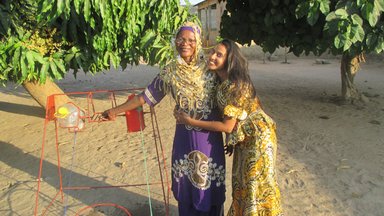 I am currently working with the community health workers to install the tippy taps and paint cues to action in individual households to remind families to wash with soap and running water. Once finished, Ami, the health workers and I will convene one last time to exchange feedback and review an evaluation of the project. Thus far, community members seem happy with the project. They have described the iron tippy tap model as simple, yet efficient. "Your work is beautiful," said Khady, a women's literacy teacher in one of the target villages. While I have already encountered a few community members not using their iron tippy taps appropriately, I have also witnessed several more washing with soap and running water, even though they were not recipients of a tippy tap. I hope each community now feels that it owns the project, and improves their hygiene and their health each day, one foot-pedal at a time.