Grassroots Soccer 'SKILLZ Girl' Training Kicks Off in Thiés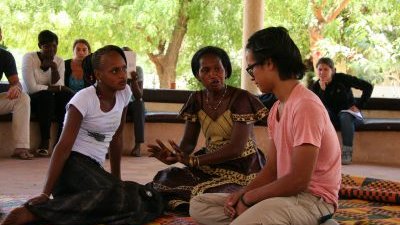 Peace Corps Senegal and Grassroots Soccer (GRS) partnered to hold the first SKILLZ Girl training in Thiés, Senegal 11-15 April 2014. GRS's Carly Ziska and Rebecca Hershow came all the way from South Africa to facilitate the training seminar.

They shared the GRS curriculum, which uses soccer to share the HIV/AIDS, women's health and gender empowerment with 10 incredible, motivated women from across Senegal (Host Country Nationals) and their Peace Corps Senegal Volunteer work partners. Over the course of the five day training, participants spoke honestly and passionately about women's issues in Senegal. Topics included: education, early marriage, and sexual and reproductive health.
All 20 participants bonded over soccer matches after training sessions. Over the next six months, these Host Country Nationals and Peace Corps Volunteers will hold incredible interventions in their respective communities. Thank you GRS for empowering Peace Corps Senegal with a the SKILLZ Girl training model!