Gardening for a Better Future
Shake Khady's hand and you will know she is a hard worker. Her calloused hands tell the story of a woman who draws water from a well, farms the land, and pounds millet with a pestle. Her feet, cracked from walking over five miles a day, are just as rough.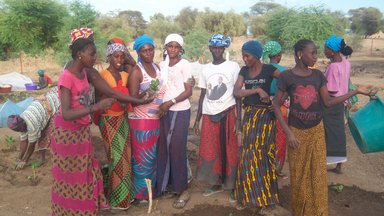 She is tired but she never shows it. Warm and energetic, she and her husband approached a local non-governmental organization (NGO) about launching a garden on behalf of her women's group. Walking over five miles roundtrip to the market for a few shriveled vegetables (at times in vain) made the women in the village yearn for their own garden – and they needed help. Inherently, as their president, Khady is a natural spokesperson. After learning that she had approached a local NGO with a formal request and meeting with the group in person, Peace Corps Volunteer Alyssa decided to work with them and the NGO to meet their needs.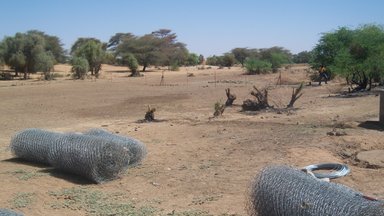 Through a Feed the Future grant, the women were able to acquire fencing, a newly refurbished well, a tool shed and gardening equipment. The land as well as the labor needed to clear it of dead, woody debris would be part of the community's contribution to the project. Within four months the women were able to harvest okra, hibiscus, eggplant and mint. During peak hot season when most people refrain from farming, the women made on average 5,000 CFA (about ten dollars), representing a ten percent or more increase in villagers' monthly wages.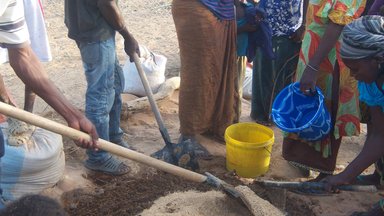 Still, these figures are only part story. The eggplants eaten in this rural Ndioum region town are shiny and fresh, not leathery and wrinkled like the ones sold at the market, which often travel hundreds of kilometers. No longer needing to go into Ndioum as frequently to go grocery shopping, the women are also able to save on the price of buggy rides into town. Additionally, with the well provided through the project, they don't have to pay as much for water.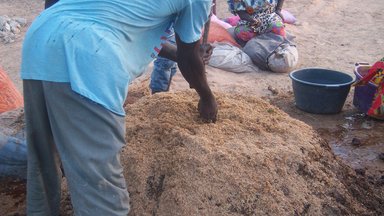 But the numbers do not indicate the level of capacity built – a central element of this project. Volunteer Alyssa and the community counterpart of a local NGO together led trainings on sustainable gardening techniques. Despite perceptions that tasks like digging and applying organic pesticide were a man's job, women picked up pickaxes, shovels, and sprayers. Over time they were able to create their plots, combat pests and plant over 300 trees. Thanks to the local NGO, the women are also learning how to read and write and will learn to transform foods in the near future.
Once a small, quiet place, this rural village is on its way to becoming a bustling center of economic activity. Khady and fellow villagers couldn't be more grateful, saying, "Thanks to [Peace Corps] we have everything we need to farm. May God bless you!"