Former Volunteer counterpart promotes agroforestry and beekeeping in Northern Senegal
Peace Corps counterpart leads the way on promoting food security through tree work in the Podor region.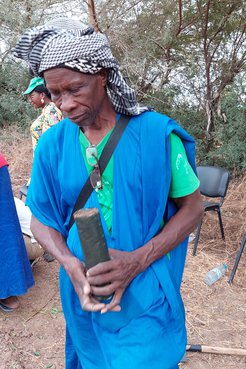 Salif Baidal BA is a former Peace Corps Volunteer (PCV) counterpart who lives and works in the village of Mbantou in northern Senegal. The forest cover in this area continues to be depleted after years of drought and most of the common fruit trees in Senegal are unable to thrive in the hot and dry climate without proper planting and care.
Salif began working with PCVs in 2011. The next year, he was trained by PCVs on agricultural and gardening best practices, tree production techniques such as nursery establishment, grafting, alley cropping, soil amendment, water management/erosion control, pest identification and management, and more. He started his garden in 2012 and now has over 30 varieties of fruit and forest trees. He stands out among his neighbors in the Senegal River Valley area, where there is a preference for rice, tomato, sweet potato, millet, and sorghum cultivation.
This expertise and passion in horticulture, combined with an initiation in beekeeping led him to co-create an association for the promotion of plants and honey. It was officially launched in April 2018 to raise awareness of the role of trees and pollinators, as well as develop a strong network that can influence local decision-making.
In 2021, Salif produced seedlings of about 316 fruit trees including: 60 Carica papaya, 40 Psidium guajava, 48 Citrus species, 50 Anacardium occidentale (cashew), 62 Moringa oleifera and 36 Ziziphus mauritiana. Thirty-two percent of the total production was planted in his field. Additionally, he successfully distributed 31% of his production to 20 farmers residing in 14 different villages around the Podor and Ndioum areas. The dissemination of trees in the area is one of his ambitions in order to have more farmers who are supportive of the collective efforts toward environment conservation.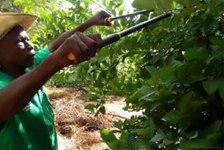 "I am grateful for what Peace Corps taught me about agroforestry and beekeeping," he said. "Tree products generate a lot of income for me and my family. I have a diversity of fruit trees such as Mango, citrus, cashew, guava, papaya, improved ziziphus variety, banana, etc. I also make income from vegetable and field crops such as onion, pepper, cucumber, water melon, maize, beans both for self-consumption and spending on the maintenance of my facilities, agricultural inputs, health and education."
Salif participated in a beekeeping training of trainers workshop in Foundiougne, Fatick region, in July 2021 organized by Peace Corps Senegal through their Feed the Future partnership with USAID. He replicated the beekeeping training with his association. Thirteen farmers participated in the replicated training and committed to actively continuing to promote beekeeping for improved food security.
The Senegal River Valley is made of many strong organizations, but they mainly focus on rice and tomato production. There is limited technical support regarding the promotion of agroforestry systems to ensure food security and environmental sustainability. Pioneers like Salif provide hope for better resilience and environmental stewardship.
---