Fighting Malnutrition with the Sustenance Project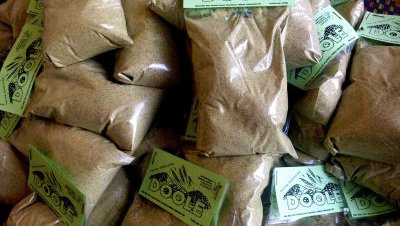 There are many meanings to the word doole in Senegalese culture. Originally Wolof, the word has been appropriated by many languages throughout Senegal. The literal translation is "strength," which is why Bokk Yenne, a local Economic Interest Group (GIE) has adopted it as the name for their new product, a vitamin-rich flour that is lifting children out of critical levels of malnutrition across the region of Kaffrine.
Bokk Yenne's president, Aliou Ba, teamed up with Peace Corps Volunteer Taiwo to get funding from One Acre Fund to start the Sustenance Project, which aims to combat malnutrition while creating income-generating activities for local community members. Through the Sustenance Project, the GIE's members learned how to purchase raw materials, produce their product, market it, and sell it. Furthermore, the flour is available throughout their community and surrounding villages and is free to mothers with malnourished children.
To streamline the multi-step production process, the members of Bokk Yenne were trained in small business management. They learned financial planning, nutrition, food-transformation processes, packaging and labeling, marketing and sales, leading demonstrations and health talks, and processes for monitoring and evaluation. Once the product was finalized and ready for sale, the GIE utilized various options for promotion and sale, including store owners, women's groups, savings groups, youth groups, and door-to-door sales. They also held health talks and cooking demonstrations to find and target mothers of malnourished children.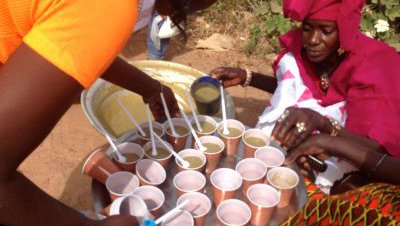 The doole flour is made from locally grown ingredients, such as Moringa, beans, rice, flour, millet, peanuts, and Acacia colei. The flour is served as a warm porridge to infants falling in the red and yellow zones on a MUAC tape test (see photo below). Every week, members of the Bokk Yenne GIE visit the mothers of these malnourished children to monitor their development and ask the mothers to demonstrate how to properly cook the porridge. The mothers also demonstrate other practices such as maintaining a clean cooking space and washing hands prior to cooking.

http://www.unicef.org/supply/files/Mid_Upper_Arm_Circumference_Measuring_Tapes.pdf
Though the program is ongoing, the Sustenance Project is already seeing promising results. Over 220 caretakers attended the demonstration sessions emphasizing proper nutrition for pregnant women and children under five years old, and 97 children under five have been reached by the program. Out of 17 children who were in the yellow zone pre-treatment, 15 moved into the green zone within two weeks; of the four who had been in the red zone, two moved into the green zone within two weeks.
Taiwo and Aliou are now working with the NGO World Vision to scale up the project and make the flour available to a larger market. This collaborative effort of Peace Corps, NGOs, and local community groups is bringing sustenance and doole to Senegal, one child at a time.