Fifth Annual Camp Gem Sa Bopp Spreads Love in St. Louis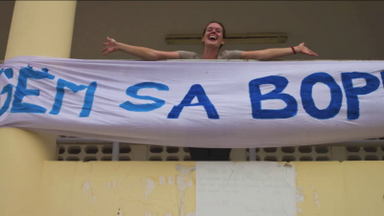 Every September Peace Corps Volunteers located around the St. Louis region of Senegal host a leadership camp known as Gem Sa Bopp ("Believe in Yourself") for young women. The camp bolsters women's empowerment through group discussions and activities. The goal is to strengthen vocational and educational skills of the campers. Every year, Peace Corps Volunteers receive help from various local leaders and Peace Corps staff.
The campers were broken into different groups. An experienced female counselor called a monitrice led each group. These women were truly wonderful in raising awareness on important issues and promoting participation, especially in the more shy participants. The team dynamic helped create strong bonds and a little friendly competition.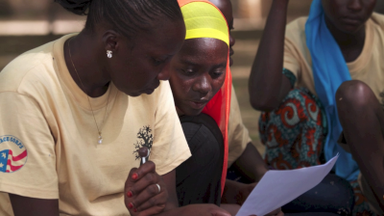 This weeklong camp covered subjects like personal health, the environment, human rights, activism, and career choices. Presentations were officiated by various regional leaders. Among the presenters were two of Peace Corps Senegal's staff: "Mama" Awa Traore and Zoe Williams. The presentations stimulated discussions of business practices, accounting, environmentalism, activism, and personal hygiene. Campers also learned and presented information on famous female leaders in history.

During an event named Kai Tukki ("Come Travel"), the campers experienced various cultures through volunteer-led presentations on different countries, including the US, Egypt, Colombia, Russia, Brazil, Singapore, and South Africa. Powerpoint presentations were accompanied by renditions of local dance.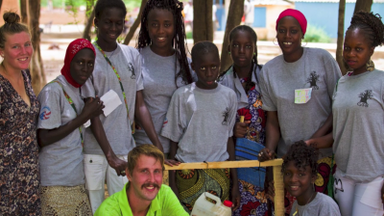 Of course, discussions were only a part of camp. There were many games. Every morning began with a light jog and some exercise. There was also yoga, Capture the Flag, and a day of Olympics that included such events as the three-legged race and kicking a goal after being spun around five times.

The final day of camp was a time for reflection, rejoicing, and the lighting of a massive bonfire. Peace Corps Volunteers also projected professional-quality videos highlighting the different events of camp on a 10ft widescreen. The final night ended in cheer and a plethora of treats made specially by the chef.
This camp has grown in size and vigor through the continued support of Peace Corps, various NGOs, and individual donors. It was very memorable observing the level of growth the campers exhibited over the course of the week. I am happy that I could make a difference in the lives of Senegal's future female leaders. I am glad to say that the 5th annual Gem Sa Bopp camp in St. Louis was a great success.
---