The Evolution of a Garden: From One Volunteer to the Next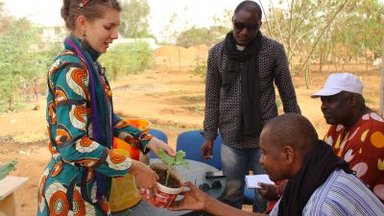 A warm and bubbly man, Amadou Kamara is popular among hospital staff, patients, and visitors. He can be seen greeting passersby in his northern Senegalese urban locale, with a smile as he waters and weeds his garden – even in the hot season, when temperatures can get as high as 120°F.
The garden where he works has been the common effort of three generations of Peace Corps Volunteers, but its success can ultimately be attributed to Kamara's dedication, the only factor that has been consistent over the last five years. While Volunteers and hospital staff have come and gone, Kamara travels more than ten miles on a rickety van, six days a week, to ensure the garden's continued success.
The garden was the brainchild of the former hospital director, who in 2011 approached three volunteers, Paul (2010-2012), Madeline (2010-2012) and Joshua (2009-2011). After ensuring with technical staff that the project was consistent with the Peace Corps approach to development, the director provided a 50m by 50m plot next to the hospital, and the volunteers were able to obtain funding through Feed the Future to purchase start-up materials, including fencing, water basins, and tools. In return, and with the sustainability of the project in mind, the hospital agreed to pay the salary for a full-time gardener. Enter Amadou Kamara.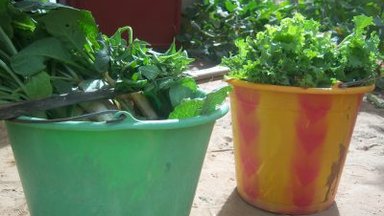 Kamara worked with Returned Peace Corps Volunteer Dylan (2012-2014), who succeeded the others, to design the space in such a way as to safeguard it from erosion and ravenous goats. Dylan trained Kamara in sustainable gardening techniques including double digging, composting, companion planting, hexagonal spacing and key-hole gardening techniques. The two installed drip irrigation and built a tool shed, intending for the garden to one day serve as a space for community demonstrations.
With this solid foundation, current volunteer Alyssa took the project a step further by working with Kamara and the hospital cooks to put together a production plan that would enable the garden to continuously serve the hospital's needs, even during abrupt seasonal changes. The plan, developed in October 2015, is still in the testing and adjustment phase, but it's already beginning to bear fruit with harvests of lettuce, tomatoes, eggplants, daikon radish, and basil that are being used in patients' meals.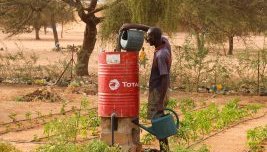 The project has been a huge help to the hospital financially, and to the patients nutritionally. What was once a large patch of sand has become a verdant microsystem in an otherwise bleak, arid landscape. The new hospital director noted, "The garden's produce, notably vegetables, have enabled us to increase the quality of foods consumed by our patients and reduce our costs. The existence of a green space by the hospital is very satisfying, and for me personally it is a refuge and a connection to nature every time I visit. The techniques used are exemplary." On hearing these comments, gardener Amadou Kamara beamed.