Delivering on the Mission: Supporting COVID-19 Response in Senegal in the face of a global evacuation
The COVID-19 pandemic tested health systems worldwide. Senegal, while initially demonstrating a robust response to and management of the pandemic, the underlining fact and parallel reality was soon revealed; the nation's already fragile health system and infrastructure were stretched and strained beyond measure.
The pandemic depleted many health structures of already scarce resources. A preliminary visit and assessment conducted by Peace Corps Senegal's health program team October 2021 to fifteen partner health posts around the country made exposed this reality. Observations and data gathered from interviews conducted with health care providers, teachers, and village chiefs among other actors, demonstrated that protective equipment (masks and gloves in particular) as well as cleaning supplies were lacking and posed a great risk to health providers and patients alike. Additionally, while effective vaccines were available, vaccination rates were low and enthusiasm for being vaccination was dwindling. Fewer individuals were following COVID-19 preventive measures, and outreach activities had come to a standstill.
PC Senegal identified three areas to focus efforts as part of the Global Vax Interagency Acceleration Plan following the assessment. PC Senegal pledged to help execute local vaccination campaigns and further amplify communication at the community level within the Global Vax Interagency Acceleration Plan. With the limited reach of communications campaigns identified as a barrier to COVID-19 vaccination in rural areas – traditionally areas where Peace Corps Volunteers typically serve in Senegal – until Volunteers were back in country, the PC Senegal health team members participated in a COVID-19 community education campaign day events in 17 communities, over 3 months between June and September 2022.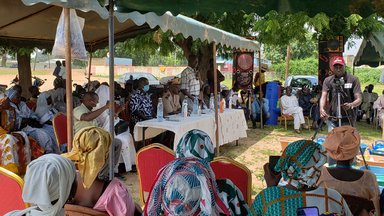 The aim of the communication campaign was to increase knowledge and confidence in vaccines among rural populations. The activity also sought to ignite a renewed vigilance and alertness among populations vis-a-vis the persistence and omnipresence of the virus. Community healthcare providers, health workers, administrative authorities such as the mayor, prefet, village chief, and other influential community figures (religious, cultural etc.) actively participated in the awareness raising activities. Key topics of discussion included the continued presence of COVID-19 in the community, the necessity to keep observing preventive measures, the importance of early care seeking, and debunking vaccine misinformation and clarifying vaccine safety.
All community representatives were given the opportunity to address the audience with facts, testimonies, and/or advise. Community members participated in engaging Q&A games that allowed them to measure their existing knowledge, address misunderstandings, debunk myths, and recognize disinformation in different forms. Additionally, skits and musical acts helped transmit critical health messages. Where the health providers focused more on the scientific and clinical aspects of care, influential figures addressed the dangers of outsourcing information instead of seeking it from a recognized healthcare provider. Providing a platform for learning and information exchange created a positive environment for behavior change.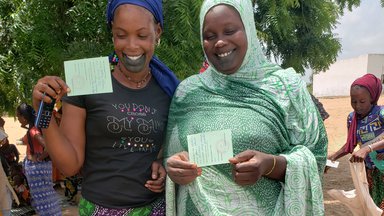 The awareness raising events were then followed by vaccination campaigns in all 17 communities. PC Senegal supported health post-led vaccination caravans to extend outreach to the most remote parts of the communities. Following the initial rush for vaccinations when demand exceeded supplies in 2021, vaccination uptake and enthusiasm significantly diminished in 2022 despite high quality COVID-19 vaccines being readily available. With a steady decrease in the daily number of COVID cases and fewer surges, the perceived threat significantly diminished at the community level. At the same time COVID-19 prevention measures were barely observed, and many health posts did not have the means to undertake outreach activities. The idea behind the vaccination campaigns was to take awareness and vaccination to those who would not or could not come to the health post for various reasons and to capitalize on the awareness raising events. Community Health Workers were deployed to these areas ahead of time to inform communities and their leaders of the upcoming caravans and messaging was done though local media outlets as well. The strategy was successful as thousands of people were vaccinated and relationships built and a sense of trust was strengthened between health care providers and patients.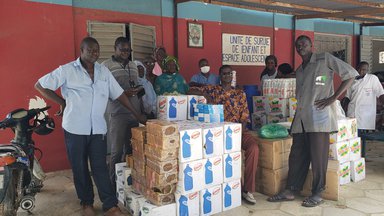 Last but not least, PC Senegal provided partner health posts with personal protective equipment (PPE) such as masks and gloves, and cleaning supplies.
Two years into the pandemic, the big wave of solidarity witnessed at the onset of the pandemic that brought support to health structures had significantly died down or completely disappeared in some cases. Health posts in the rural areas where PC Senegal intervenes were particularly disadvantaged, and to this day, health centers are under-resourced, have insufficient or irregular PPE, nor do they have the purchasing power to acquire needed supplies. Although the number of COVID cases has significantly decreased in 2023, health posts remain the focal point for combatting future outbreaks and frontline workers continue to be exposed to the COVID-19 virus daily. In supporting health posts with these commodities during the Global Vax campaign, the aim was for frontline health providers to be better protected and equipped to provide care to COVID-19 patients at the health posts and health huts. As the COVID-19 epidemic shifts from a pandemic to endemic response, the need to maintain supplies of protective equipment and cleaning supplies is critical. The campaign seized on the moment to ignite strategic thinking around the necessity and importance of stakeholders taking an interest and an active role in ensuring that health posts are reasonably resourced. The PC Senegal health team convened a community gathering that included influential stakeholders with regards to the management of the health post. This event boosted moral among health providers who felt their dedication to protecting the health and wellbeing of the community was seen, appreciated, and bodes well for the future.
During the campaign period, 5,000 people were vaccinated, over 3,000 people participated in information sessions, and supplies were distributed to 17 communities as part of efforts to engage them in information exchange sessions designed to keep them healthy and safe in light of future waves of COVID-19. In March 2023, PC Senegal will welcome the first cohort of Health Volunteers back to Senegal. Health PCVs will continue to highlight the importance of remaining vigilant in light of the continuing presence and threat of COVID-19.
---