Community Partner Spotlight: Yaya Sankare
Yaya Sankare sought me out immediately after I arrived in my site - a village in the Tambacounda region. I'd conducted a village-wide meeting where I formally presented my forestry work potentials as well as myself, in the Bambara language, in front of an audience of over 60 men from several villages. I made it clear that I wasn't here to give away gifts, or act as free labor on any farmer's field, but rather I was here to teach skills and connect interested partners to technical knowledge they may mot have had access to within the community.
Right away I knew Yaya was motivated, strong, hardworking, interested in trees, and most of all, kind. Our work relationship flourished from the start. Together, we assessed and examined his property, remarking on the crumbling stick fence surrounding the garden and the dearth of fruit and forestry species. We decided to make a tree nursery to address these needs. We decided the stick fence would better be substituted for a live fence of thorny acacia species. This is longer lasting, and contributes less to the deforestation that is a growing problem surrounding our villages.
Over the course of several months we went through the process of growing trees together, step-by-step, to insure full understanding from start to finish on both our parts. We filled and seeded growing sacks, watered and weeded the saplings, and eventually outplanted them. I quickly came to learn that "shortcuts" with work partners often end up rushing the process resulting in a poor job.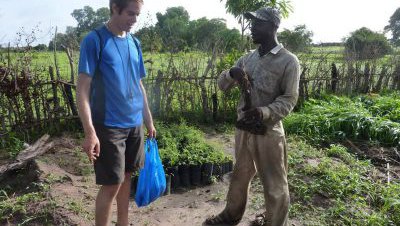 Yaya planted roughly 500 trees in two years: 200 to complete his entire live fence with acacia Senegal, Acacia mellifera and Acacia nilotica. He planted about 30 cashew trees as a firebreak surrounding his property, an orange tree, 40 papaya trees, 4 banana trees and a myriad of moringa and cajanas cajan. He has opened up his garden for others to use and aids them in making their own tree nurseries. So far two farmers have taken him up that offer. He plans on transforming some of his property in a much large mango orchard. This year he's planted about 15 mangoes.
Yaya's father was an immigrant from Mali who came to Senegal several decades ago. He passed away, making Yaya the head of his household and sole breadwinner. Yaya is without any formal education, of very little financial means, and has never traveled more than 40 kilometers in his life. Yaya's kind of brilliance can't be taught in a classroom. He is a truly independent thinker with a profound understanding of the environment and trees. During our months spent growing and maintaining his trees, at times under the pouring rain and the blazing sun, our friendship flourished.
We've discussed everything from agricultural cultivation practices in America to family planning and female circumcision in Senegal. He has become one of my strongest work partners; coordinating community outreach, teaching new techniques to other farmers and fueling community movements in regards to trees such as a cashew fire break around the school.