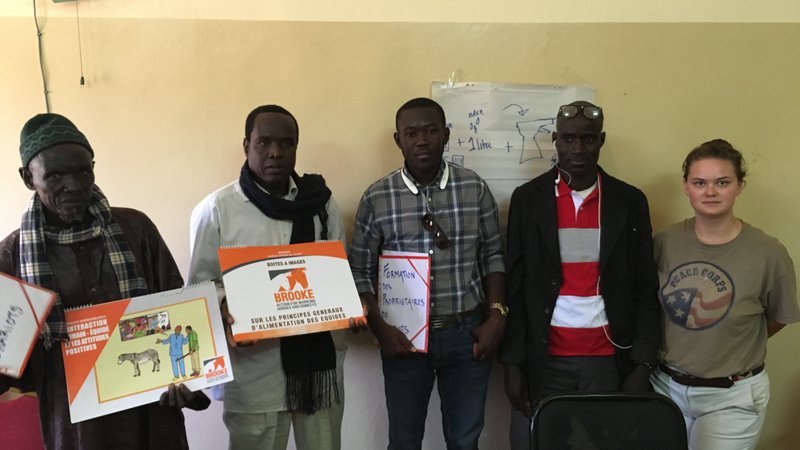 Nov. 27, 2018
Ali Gningue is drinking tea with Volunteer Madeleine in the local livestock market where he sells hay and horse feed. 
As people come to socialize, he proudly tells his friends how to make equine tick and insect repellent, which helps to slow the spread of insect--borne diseases prevalent among unvaccinated horses.  He learned this concoction at a recent training held by Madeleine. The recipes are simple, made from locally available products and natural resources found in Diourbel Region and throughout Senegal. 
Horses are instrumental to many Senegalese locals, particularly those in rural areas who rely on farming for their livelihoods.  In a country where few farmers own tractors, horses are often the second best option for pulling and transporting heavy equipment.  However, many people lack the resources to feed and maintain their horses properly, resulting in poor health and sometimes early death.
Ali is a farmer on the outskirts of the city of Diourbel, where he lives with his family and the two horses that he uses to farm his fields and drive his charette. He is president of the Horse Owner's Association of Diourbel. Ali is always seeking knowledge to better care for his horses; but knowledge is scarce, and the challenges are abundant. In 2016, one of his horses suffered a catastrophic injury that resulted in death. Although Ali needed three horses to prepare his fields, he could not afford to replace it. As a result, his field preparation suffered, bringing stress into a household bound to the whims of an inconsistent rainy season. 
Madeleine, a Diourbel Volunteer, saw an opportunity to use her experience with the United States Pony Clubs to help families who relied heavily on horses and donkeys for their livelihoods. When her host brother Daouda brought her to Ali's market stall, the project to train charette owners in horse care and management was conceived. Coupled with Ali's desire to help others in the community, the potential for a successful project was evident.
Through discussions, Madeleine discovered that the average lifespan of a farming horse in Senegal is between seven and ten years. This short lifespan is due to a number of factors such as poor nutrition and veterinary care.  Well--maintained horses can work into their early twenties. Ali and Madeleine discussed how farmers and charette owners could invest up front in their horse's health, which could result in long--term savings. They designed a program to address these issues in a nearby village. The first training covered three topics: equine care and management taught by Brooke.org, an equine welfare NGO based in England; savings and income management; and thirdly, the implementation of a community exercise that ranks local needs and addresses strategies for lowering barriers to behavior change.

The Mayor of Toure Mbonde agreed to host trainings and sponsor the creation of a charette owners association. This led to 40 local equine owners from 11 villages learning valuable equine care and management strategies. Through their new association, these farmers hope to start a savings plan for the starving season, which occurs every year between September and November right before the year's crops are harvested.  Farmers often find it difficult to feed their horses amongst scarce resources.  They also want to start a micro-insurance group to ameliorate the financial strain of equine accidents like the one that affected Ali Gningue's family.
Madeleine's love of horses inspired this work, and she hopes that with the continued efforts of local community members, the health and life span of local equines will continue to increase.