Building Bridges: President Macky Sall Inaugurates Abdoul Diallo Bridge in Kolda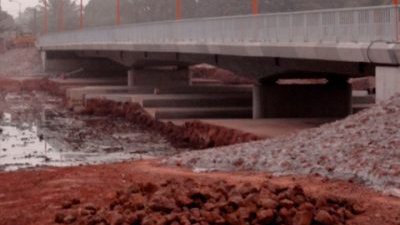 It is not everyday Peace Corps Volunteers get to revel in the pomp and circumstance of diplomacy, but 5 of us did just that this past weekend to celebrate collaboration between the government of Senegal and the United States.  Brad, Jim, Kimberly, Stephanie, and Lauren gathered with delegates from Senegal, the United States, and the community of Kolda on Saturday, February 21 to celebrate the opening of the Abdoul Diallo Bridge.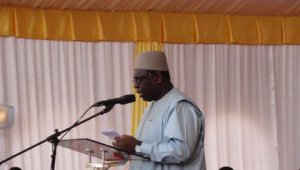 Senegalese President Macky Sall, U.S. Ambassador James P. Zumwalt, Adjoint Director General of the Millenium Challenge Corporation (MCC) Nancy Lee, as well as representatives from MCA (Millenium Challenge Account) Senegal and the Mayor of Kolda, Abdoulaye Bibi Balde, attended a ribbon cutting inauguration of the bridge, part of MCC's $324 million project to rehabilitate the Route National 6 in Kolda and the Route National 2 in the North. The five Kolda-area Volunteers were invited by MCA to attend the ceremony and speak with the Ambassador about their experiences as volunteers as well as their opinions of what this collaboration between Senegal and the United States will mean for the region.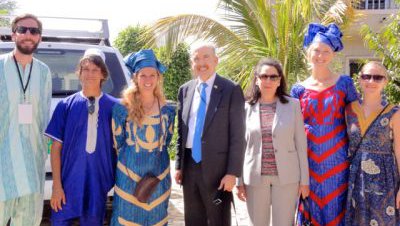 The bridge is part of a 252 km road linking Kolda to Ziguinchor to the west and Tambacounda to the east, a critical piece of infrastructure for the region. Kolda has great agricultural potential for Senegal as a major supplier of mangos, cashews, peanuts, millet, sorghum, and corn, and benefits from ample rainfall each year. Community Economic Development Volunteer Stephanie noted, "Kolda is well situated between Ziguinchor, Tamba (which borders Mali), Guinea, and the Gambia, but if essential goods and services can't reach these markets because of poor infrastructure, how is the region of Kolda supposed to compete economically?… It is fitting that a bridge is being inaugurated today because that is so much of our work as Peace Corps Volunteers, to build bridges between our communities - both here and abroad - that make lasting change."