Brick by Brick a Health Hut Goes Up in Matam
"We want a wall. And shade," exclaimed Volunteer Ashley's village midwife and health counterpart, Khady. "Yes, and a garden. Our health hut is lonely and ugly," confirms her other counterpart, Koumba. They both laugh at the sad state of the health hut, standing all alone with just thorn bushes, trash, and goats to greet it. The health hut is a simple three-room structure open five days a week thanks to Khady's volunteer hours and midwifery expertise. Ashley's counterparts are two of the most robust and hardest-working women she knows, and they deserve better.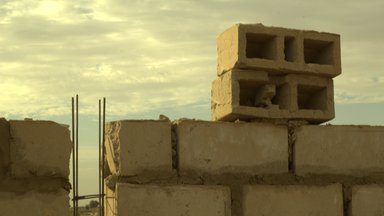 The health hut is highly frequented by all in this small, rural, fishing village, especially by mothers and children under five years of age. Most people come looking for a remedy and others come just to converse with Khady, who is always willing to lend a listening ear. However, in this remote village, the health hut's appearance has not always been inviting, especially since it had no place for resting and little security, a problem that could be solved by a simple wall and shade structure. Also, nothing green thrived in the sandy, dry 45 C weather, but thorn bushes and wandering animals.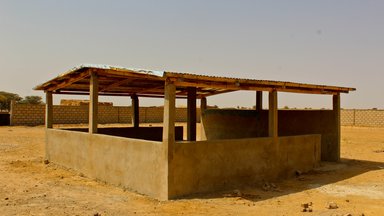 And thus begins this year-long project for improving the health hut infrastructure. Health hut meetings turn into village meetings that are called by the chief and bloom into a community contribution that exceeds the required amount--a great sum of money for a village with very little means. "We may be poor but we can all do this together," says the village chief, Khalidou. The health hut committee, the mason and his crew, and the whole village pulled together their resources, skills, knowledge, and capabilities to bring this project to fulfillment. Ashley had only to facilitate.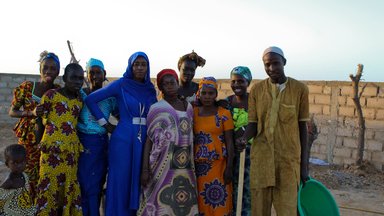 With the enclosing of a 40m by 40m wall there is more than enough space to start a small health hut garden. The incentive and creation of this garden comes from the volunteer work of Abu, the village's baker. Abu offers his own time and work to double-dig the sandy, rocky earth within the parameters of the wall for the establishment of a 12m x 12m garden. He also gathered helpers to put up the fencing. His work is a great catalyst in the creation of a small women's garden group to utilize and maintain the space for their nutritional purposes and the introduction of moringa – a hearty tree the leaves of which provide a great natural source of vitamins.
The foundation for a progressive and thriving health hut is now laid with the wall built, shade provided, and seeds sown. All of these things are, "Good things that don't come easily," remarked Khady. This place of refuge, healing, nourishment, and inspiration is the talk of the town as of late. People are drawn to this center of health and security. They know that this is a good thing for themselves, their families, and their community--not just for their livelihoods, but also for their overall physical, mental, and spiritual well-being. The renovated health hut gives the people a sense of belonging and value and represents the heart and will of a small fishing village.