Breathing Economic Life into a "Forgotten City"
It's not easy living in a place referred to by some its own inhabitants as "the forgotten city" of Senegal.
Diourbel is just a stop on the highway for most Senegalese and visitors alike. But Diourbel has the potential to be so much more. It's not only a regional capital, but it's centrally located in the peanut basin—the sub-region that produces the bulk of Senegal's main agricultural export—and there is a major university just a few kilometers outside the city.

So why does it feel like such a ghost town?

Largely, the answer to this question lies in Diourbel's massive youth population and stagnant economy. Rather than settling down in Diourbel, graduates from the nearby university tend to leave the area in search of employment around the country. It's a problem that can be seen all over Senegal, as more than 200,000 youth enter the work force each year, and only 30,000 formal jobs are created for them. 
The Senegalese government is addressing the issue with the creation of ANPEJ (The National Agency for the Promotion of Youth Employment) and ODEJ (The Departmental Office for Youth Employment)—focused specifically on the department of Diourbel—and the Peace Corps is working closely with them to meet their goals.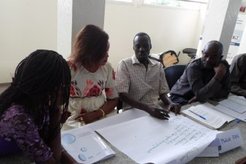 In Diourbel, this is taking place through the partnership of Ousseynou Diop, the ODEJ coordinator, Cheikh Gadiaga, a teacher and member of ODEJ, and Community Economic Development Volunteer Stephanie. This volunteer organized a series of entrepreneurship trainings for 14 students over the course of one month. The lessons, taught by both Stephanie and Mr. Gadiaga, discussed topics like the attributes of a successful entrepreneur, the direct and indirect costs associated with different types of businesses, and the importance of accounting to a profitable business.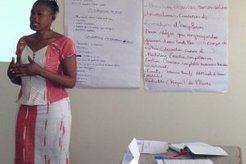 Of the 14 students, several came into the program already involved in their own commercial endeavors, such as tailoring and raising chickens, while others were working on starting businesses, including making handmade soccer balls and starting tree nurseries. The students were an engaged, attentive, thoughtful and creative group.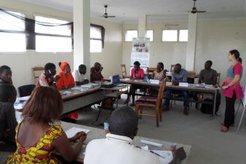 At the end of the month, the students wrote detailed business plans for each of their entrepreneurial aspirations, and a ceremony was held in their honor. The ceremony was attended by representatives from several government and funding organizations, providing an excellent networking opportunity for the talented students, and introducing them to partners that may be able to help finance their new businesses.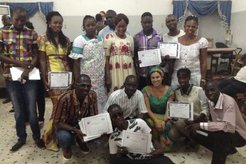 Thanks to the cooperation of ODEJ and other partners, Stephanie will continue to lead these courses for now, and transitioning the teaching over to ODEJ in the long-run. With this fresh wave of entrepreneurship training and increased economic opportunity, these young entrepreneurs are going to put Diourbel back on the map.