Beekeeping as a Path to Food Security
Peace Corps Senegal staff are supporting program partners in food security during the pandemic-related absence of Volunteers.
Master Farmers are an important partner, and our Agriculture and Agroforestry teams are hard at work supporting them. Since 2010, Peace Corps Senegal has supported the Master Farmer program with funding from Feed the Future via USAID. Peace Corps Senegal supports 65 Master Farmers across the country. These Master Farmers are critical to our goal of helping Senegal achieve food security by 2035.
One activity with a very high potential in Senegal is beekeeping, due to suitable climate conditions, wetlands and diverse flowering plant species. Nevertheless, Senegal continues to import honey and bee products and Senegalese farming communities struggle with low crop yields, reliance on rain-fed agriculture and variable income streams throughout the year – all factors contributing to food insecurity among agricultural households.
The benefits of bees and beekeeping have been scientifically demonstrated. Bees are well-known pollinators for fruits, vegetable and field crops. The more bees visit a field, the higher the number of flowers that have a chance to be fertilized (produce fruit or seed), leading to higher field productivity. Higher productivity means more food availability and higher income for farmers. In addition, the beekeeping products (especially honey and wax), are very profitable and are well-known for their nutritional and health benefits.
Beekeeping has been incorporated into the Peace Corps Senegal Environment Program because of its role as a tool to promote food security as well as sustainable natural resources management and environmental conservation. Peace Corps Senegal launched its beekeeping initiative in early 2020, and a Volunteer Leader was selected to occupy the position of Beekeeping Coordinator. Some initial trainings on basic beekeeping best practices were conducted with Volunteers but, following their departure, efforts were suspended. When Volunteers return, they will focus on building beekeeping activities across communities in Senegal.
To support the efforts around the beekeeping value chain in Senegal and build the capacity of staff and communities to sustainably produce and harvest honey and beehive products, Peace Corps Senegal held a training of trainers in Foundiougne, Fatick region, in July 2021. The workshop included 15 participants (more than a quarter female) from nine regions of the country. Peace Corps staff, participants in the Master Farm initiative, counterparts of former Volunteers, and Senegalese Forest Service agents were among the participants, who committed to train others in their respective communities. The training was facilitated by beekeeping professionals with more than 20 years of practical and teaching experience.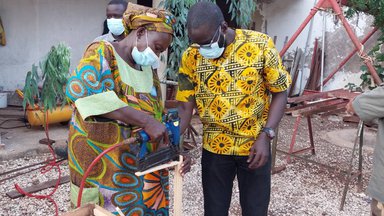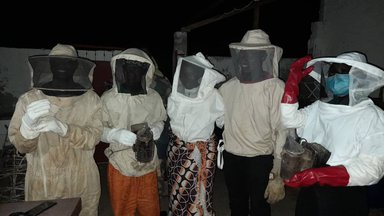 Malick Mboup a participant from Kaffrine, said "I am motivated to promote beekeeping to enhance my work with Peace Corps and the NGO Trees for the Future and to promote good Agriculture and Agroforestry practices as well as greening initiatives. Beekeeping will allow me to generate direct income, increase the productivity of my trees and crops and will impact my livelihood and that of nearby farmers."
A Forest Service agent from Louga, Elhadji Boure Diouf was motivated to replicate the training. "We are a technical partner who is very involved in local development strategies and initiatives. We can influence decision-making, especially in environmental conservation efforts. The training on beekeeping is an important opportunity for us to promote environmental education and sustainable natural resource management locally."
A counterpart from Podor in northern Senegal, Salif Baidal Ba, wasted no time after being trained. After he shared his training report with the Association for the Valorization of Plants and Honey, they decided to replicate the beekeeping training. An initial training was held in August 2021 in the village of Wouro Madihou, St. Louis region. Thirteen farmers participated and committed to actively promote beekeeping, using information that originated from Peace Corps' training workshop.
These partners are now poised for the return of Volunteers, so that they, too, can continue to promote beekeeping for improved food security. With their new skills, they can train future Volunteers as well as interested community members on beekeeping activities, how to promote beekeeping in their regions, dissemination of best practices, and identification of resources and business opportunities for beekeepers.
When conducted in a sustainable manner and in a healthy environment, beekeeping in Senegal can contribute to environmental conservation, increased crop production and higher incomes for farmers, provide a good source of nutrition and contribute to agricultural household stability and resiliency.