Bamboo's Amazing Disappearing Act… And How To Get It Back!
Just outside the regional capital of Kedougou, Peace Corps Volunteer (2013-2015) Jason teamed up with locals to address the growing issue of bamboo deforestation.
Bamboo is an essential building material in southern Senegal, where it most commonly grows due to higher precipitation, mainly used for fences, roofs, tools, furniture, and bridges. Unfortunately, the rate at which humans are harvesting this wood is far higher than its natural rate of regeneration. A plant defined by duality, bamboo is both fast-growing and slow to regenerate. It is one of the sturdiest woods, but extremely delicate and susceptible to drought at its early stages of development.
Bamboo's increasing scarcity has visible impacts on people's livelihoods, both economically and environmentally. A bushel of bamboo, once a commonplace household item, is now too expensive for most families to afford. Moreover, the high selling value has driven people to illegally harvest the wood from national parks and reserves.
These issues are especially pertinent to local farmer and craftsman Mamadou Sow, who has been working with bamboo for decades. Mr. Sow is an artisanal bamboo furniture maker. Although he never finished high school, Mr. Sow speaks seven languages, and has trained with African and European NGOs in Senegal and Guinea. He has a unique method of carpentry in that he sustainably grows his own bamboo while being able to earn a living from his trade without contributing to the deforestation problem. He has a deep understanding of the environmental and economic challenges that accompany the loss of bamboo in the region, as well as the cultural and societal need for a focused effort to regenerate this valuable crop.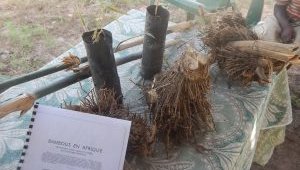 This past November Mamadou Sow and Jason held a bamboo management training and awareness session at a bamboo woodlot which they co-created as a demonstration site for proper bamboo regeneration techniques. It was attended by local farmers, government and development workers, and other interested community members, and focused on how to sustainably propagate, manage, and earn income from bamboo, while also serving as an opportunity for the attendees to discuss their own concerns over the increasing scarcity of this vital resource.
The community members came away with a greater understanding of the history of bamboo in the region, sustainable management techniques, and the possible ways in which they could incorporate bamboo into their lives as a source of income without depleting local forests. The attendees also each received bamboo rootstock to plant and propagate in their own homes and fields, to provide their own future sources of bamboo, and to facilitate the education of their neighbors on this important topic.
---