Ashland to Anambé: Art Connects Wisconsin High School to Senegal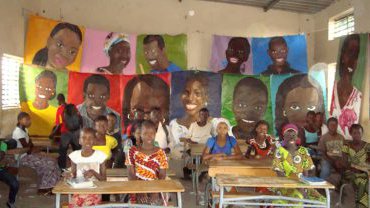 When I received my invitation to Peace Corps/Senegal, my mother, an Ashland High School art teacher, and I enrolled in the World Wise Schools (WWS) Correspondence Match program. Most WWS collaborations are based upon letter exchange programs between students from Peace Corps Volunteers' host communities and a partner school in the States. WWS facilitates these collaborations to further the second and third goals of Peace Corps Service; to facilitate understanding of other cultures by Americans and improve the understanding of Americans in other countries.
Six months into my service, we dreamed up our own project: Ashland to Anambé. Based on the work of artist-activist JR, my mother's students would paint and send portraits of Anambé community members to display at our local middle school in the Kolda region of Senegal.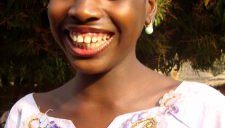 Artist-activist JR won the 2011 TED Prize for his large-scale photo installations exploring themes of identity, freedom and equality. To create cross-cultural understanding, he takes pictures of everyday people in their communities, makes giant prints and plasters the images on buildings, trains, rooftops and public spaces in their own neighborhoods. In 2006 he installed his series entitled "Face2Face" on either side of the Separation Wall between Palestine and Israel to show that at the heart of the conflict there are also similarities; people that look alike, people that lead similar daily lives, people that share emotions, and above all, people that value kindness. He's also done projects in Sierra Leone. Check out his TED prize video,https://www.youtube.com/watch?v=M5MEC5MPjvg, and learn about his other installments throughout the world.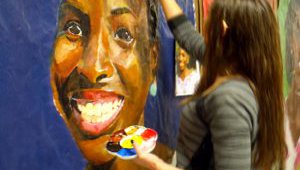 Each student chose one of my photo portraits to paint. Each painting is 4 x 4 feet. They are designed to celebrate and start a dialogue about identity in a public space. I wrote a description of my community and a short biography to accompany each photograph to help create a deeper understanding of each person's daily life, personality and quirks.
"To me, the greatest thing about doing this painting was getting a chance to experience someone else's culture," Ashland High School student Julia Garness told the Ashland Daily Press. "It's an experience we rarely get in Ashland, Wisconsin. While doing a painting of someone, you feel connected to them no matter who they are. When I started this project it seemed impossible, but the process allowed me to push myself as an artist."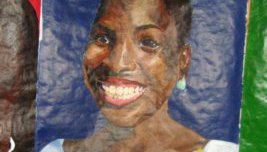 This week, I had the pleasure to finally install the 15 paintings at the middle school in my community. I arrived Monday morning and with the help of my friend, Aliou Gano, we hung the paintings using bungee cord clotheslines. Early Tuesday morning, I walked to the school, before classes started. I sat and waited for the students to arrive. They slowly trickled in to greet me and, to their surprise, a classroom covered in familiar faces. They came leydi to leydi, face to face, with themselves, their neighbors and family members. Soon the classroom was filled with students in awe, calling out the names of individuals in the paintings, examining the details of the women's earrings and headscarves, signaling for others to come see the paintings.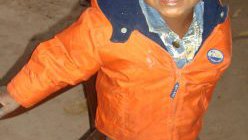 At first, I was overwhelmed by the task of preserving the paintings. How long will the paintings remain intact? Will students respect the artwork? It's difficult to maintain communal spaces and property in the rainy season and so on. My worries were immediately washed away as I watched the students interact with the art. They were proud. They were grateful that a student, a stranger, took the time to study their photographs and understand the faces of their community. They were in awe of the lively eyes, noses and earrings in every one.
In March, I'm expecting another set of paintings to add to the gallery. I'm thankful for my mother and her students. Their dedication to the project and my community is remarkable and contagious.
Ashland High School student Lucia Augustine said, "I discovered how to notice all of the colors that make up a skin tone."
Ngon-en Jam,
Peace Corps Senegal Health Volunteer Rachel