22 Peace Corps Volunteers Serve as Counselors for Embassy Summer Camps
From August 17th to 21st Peace Corps Senegal Volunteers throughout the country ran 11 English immersion camps for 650 underserved Senegalese teens.  The summer camps are an important part of the U.S. Embassy's English Access Microscholarship program, which gives two years of after-school English instruction to bright young Senegalese students.
For the students, the presence of the Peace Corps Volunteers was a chance to practice English and to learn about America with a real American; for the Peace Corps Volunteers, the camps were an opportunity to build upon their work promoting a better understanding of America.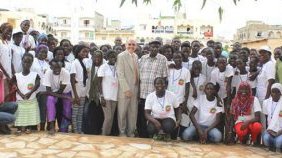 Many of the Access students had never met an American before participating in the camps, and by working with the Peace Corps Volunteers they gained not only confidence in their English use, but also a greater awareness of Peace Corps activities in Senegal.

In addition to the volunteers, the camps were staffed by Senegalese Access teachers and alumni of the YES exchange, which sends Senegalese students to the United States for a year of high school.  The U.S. Ambassador to Senegal, James Zumwalt, in his visit to the Parcelles Assainies camp, praised the Peace Corps' involvement, noting that English is a skill which leads to greater opportunity for Senegalese youth.