Kédougou Youth Leadership Camp 2014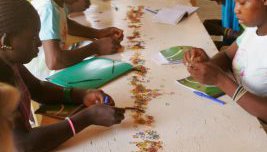 The sixth annual Kédougou Youth Leadership Camp brought 20 young women and men together from all over the region for one week of fun, learning and friendship.
Community leaders, friends of Peace Corp Senegal and volunteers led the group of amazing middle schoolers in yoga every morning, sessions on leadership, health, female empowerment, environment, crafts and a nature walk to the Dindéfélo waterfall.
"These are Kédougou's leaders of the future and today," volunteer Ian-Huei said. "It was an honor to spend a week sharing and learning alongside them."