Senegal
Director's Welcome
Greetings from the land of teranga ("hospitality" in Wolof)!
---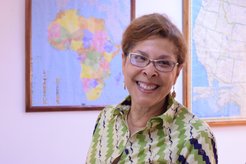 Senegal is an ideal country for Peace Corps service: democratic and politically stable with a long history of religious and ethnic tolerance, as well as freedom of movement and action. Volunteers quickly integrate into their communities, thanks to our world-class language and culture training program. And through our technical training program, ranked no. 1 in Africa in 2015 by Volunteers themselves, they are equipped with the skills necessary to support the development efforts of their host communities.
We take development, the first of Peace Corps' three goals, very seriously. If you are looking to make a lasting contribution, we will prepare you to do so in one of our four sectors – Agriculture, Agroforestry, Community Economic Development or Health. In addition to your primary sector work, you can also contribute to gender equity through the global Let Girls Learn initiative, youth empowerment camps and in many other exciting areas. We provide our volunteers the opportunity to design their own innovative projects, and take pride in the creativity and ingenuity of their thoughtful and impactful work.
Beyond development, Senegal Volunteers are also actively working on Peace Corps' two cross-cultural understanding goals –by helping the Senegalese to better understand American society and culture, and by taking their knowledge of Senegalese society and culture back to the U.S. And in the process, our Volunteers wind up effecting change that lasts a lifetime.
Follow us on Facebook, Instagram and YouTube to see the exciting and diverse work that Volunteers are doing in Senegal. We look forward to welcoming you to the land of teranga!
- Cheryl Gregory Faye