With passion and pathos, purpose and pizzazz, many a dream abounded upon a simple stage recently in Rwanda's Southern Province.
From aspiring doctors and aviation specialists, to politicians and human rights activists, the visions of over 80 Rwandan schoolchildren from all over the country, rang out at the Institute Catholique de Kabgayi - no microphone required. 
Sponsored by U.S. State Department in an effort to promote English language learning in the community, a packed audience of U.S. Peace Corps volunteers, Rwandan teachers, family and friends gathered to listen to the contestants "speak up" their truths for tomorrow.   Inspired by the infamous words of none other than Rev. Martin Luther King, Jr and his 'I have a dream' oration, the 'prodigious hilltops' of Rwanda were indeed alive with the powerful sounds of dreams. 
As the Honorable Mr. Peter H. Vrooman, U.S. Ambassador to Rwanda, fittingly reminded all in his eloquent keynote address, this inaugural Speak Up contest was an opportunity for the students in their 3-minute slots, to freely speak their truths, an opportunity in 1960s America, he explained, history made challenging.

With 2 different panels of judges for Primary/Lower Secondary and Upper Secondary respectively, the contestants were assessed on both the content and delivery of their speeches. The panels  that included Marissa Rollens, the Public Affairs Officer for the U. S. Embassy in Kigali, Kassim Ndindabahizi from Peace Corps Rwanda, Pamela Watkins, Peace Corps Response Volunteer, Richard Niyibigira, President of the Association of Teachers of English in Rwanda (ATER), and other education/ development institutions in Rwanda, had their work cut out, given the impressive calibre of presentations.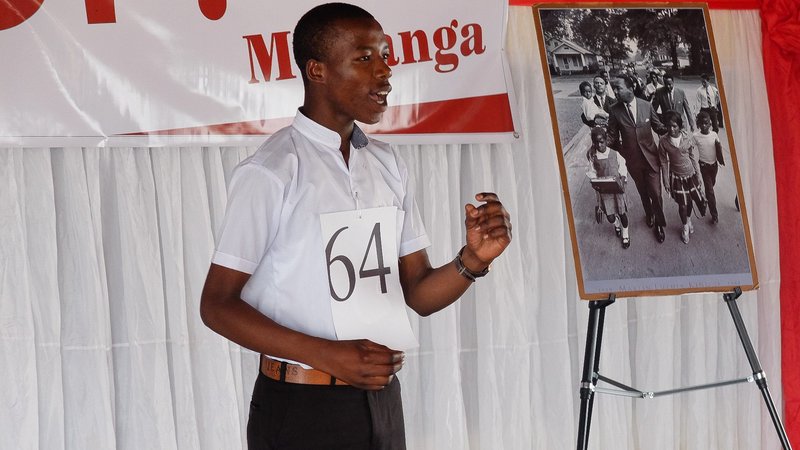 As both Peace Corps Volunteers and contestants alike later reflected, they were presentations that were about so much more than just a competition.  As Ed9 PCV Jennifer Sieh articulated about her experience, "it showed me why we are here and how much the work we are doing is impacting our students." 
Whether it was the fact that a student was at the podium powerfully orating her dream in English, or collecting a valuable interpersonal experience of engaging with new students from different schools, each was in concert with the U.S. Peace Corps' first overarching mission: To help the people of interested countries in meeting their need for trained men and women.  That said, this event clearly proved that the "training" aspect can and does extend far from the formal classroom and can manifest in many foundational ways.
Proud words imparted from a Primary 6 contestant who considered his experience "beautiful" and "important for me to show how much I have improved my English," only serves to remind us of just how much our impact as volunteers can be on these students' personal journeys and beyond.   
And let's not forget the awe and excitement of the bus journeys themselves!  For PCV Tom Sabella (Ed9), it was an opportunity for him to expose his students to future possibilities, taking them "from the village to a University in a regional town."  Or for the 15-year-old student of PCV Nicholas Sung (Ed8): "Speak Up was the first time he had ever left his village."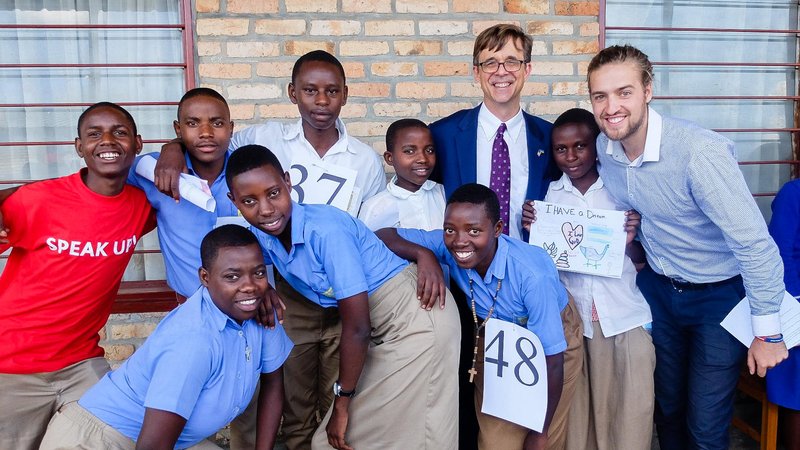 Whatever the destination, whatever the road, this was a day that unequivocally created memories and vocally cemented dreams.  Be they 3 minutes about becoming an incredible President, spurring innovation for youth, fighting gender violence in the world or making their mother happy, no aspiration was too small to highlight the powerful and eclectic scope of the dreams of a child.  For in a way, the contents of their dreams were, as Dr. King himself would have espoused, "the content of their character." And impressed no doubt, he would have been. 
As winners' envelopes were presented and applauses died down, there was little doubt, as Event Coordinator Susan Spano, Department of State, English Language Fellow, spoke up with pride, that every child was a winner that day - and they rocked!
Peace Corps Rwanda Volunteers who coached and brought teams to the event were:
Ed. 8: Ryan Sandford, Nick Sung, Elaine Kerry
Ed. 9: Kyla Kortering, Kristina Thompson, Thomas Sabella
Congratulations to following PCVs - Winning teams from Peace Corps schools:  Mandy Moore (Ed9) (Ed9) Jenn Sieh (Ed9)