Reducing Child Stunting with Village Kitchens
Over the past few months, my counterpart Xaverine and I have visited each of the 25 villages in our health center's catchment area.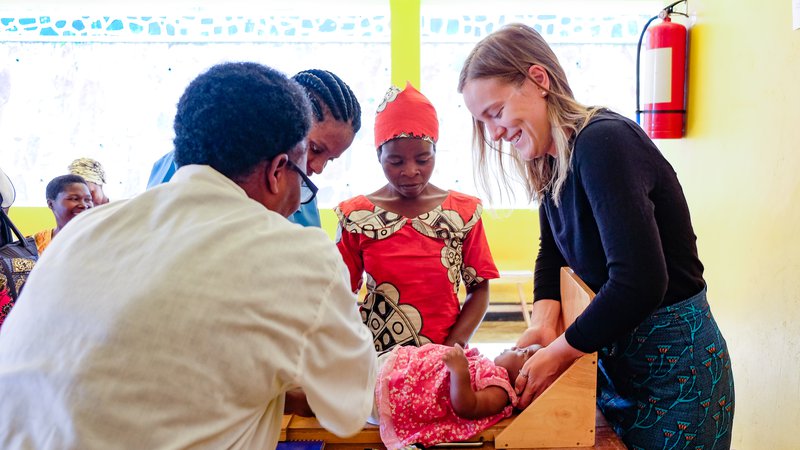 Each month, community health workers are in charge of planning and hosting a village kitchen event for pregnant women and mothers of children under five years old. At village kitchens, mothers come together to cook a nutritious meal, each providing various ingredients that they grow in their gardens or a small amounts of money. Village kitchens are also important because they provide a monthly venue for community health workers to see and monitor the growth of all children under five in their respective communities, which is critical to identifying cases of malnutrition that could otherwise be missed.
In the community, and at the health center, my colleagues and I emphasize the importance of accurate growth monitoring. We measure the weight, height and mid-upper arm circumference of all children under five on a monthly basis, and all community health workers are trained to accurately conduct measurements, evaluate data, and report on malnutrition. When growth monitoring is accurate and timely, children can gain entry into malnutrition rehabilitation services, quickly accessing milk and fortified food programs, and health education. We teach mothers what it means for a child to be in the green (well-nourished), yellow (malnourished) and red (severely malnourished), and have found that when mothers have a better understanding of their child's growth status, they are able to determine how they can better help their child and in which ways they are currently falling short.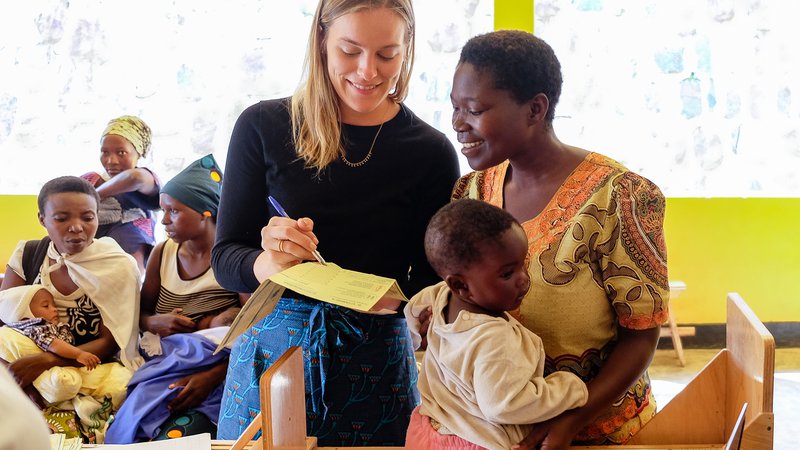 As a Maternal and Child Health Volunteer in Rwanda, my role is to work with my health center counterparts, community health workers and families in our community, to help reduce the prevalence of stunting, a form of chronic malnutrition, in children under five. Childhood stunting has long-term health and developmental affects and requires early intervention. To accomplish this aim, I have worked with our Titulaire (the head of our community health center), my counterparts and community stakeholders, to design site-specific goals aimed at tackling malnutrition. We have chosen to take a three-pronged approach, focusing on high impact behavior changes that, although not all specifically focused on nutrition, are critical in reducing childhood malnutrition. Our site goals are focused on improving nutrition and food security, hygiene and sanitation, and on increasing uptake of modern methods of family planning. Community kitchens provide a unique venue to support our goals of improving nutrition and hygiene, two key interventions in our overall objective of reducing the prevalence of childhood stunting.
Xaverine has been absolutely integral to our work at community kitchens. She created monthly schedules, working with community health workers to determine which days we could visit, and making sure they could procure the supplies we needed for our lessons and demonstrations. Furthermore, she believed in the value of the lessons we were teaching: making soy milk from scratch and building tippy taps (hand washing stations) using locally sourced materials. We chose to focus our first round of village kitchen visits on hands-on demonstrations that women could easily apply in their homes. In our catchment area, soy is widely grown, and is a staple in many families' diets. Teaching women to make soy milk gives them the ability to use soy in a new and different way, and is a great source of protein for children who have little appetite or a hard time eating. Similarly, creating tippy taps using local materials – sticks, string, a jerry can and a nail – is easy and affordable. It allows women to improve their families' hygiene and is a simple way to reduce the prevalence of diarrheal disease. Children who eat a balanced diet, but are constantly plagued by diarrhea, intestinal worms or other parasites, struggle to grow to their full potential and often end up malnourished, whether acutely or chronically.
The lessons we teach are interactive, hands-on and build skills. My counterpart Xaverine teaches the theory behind why we are making soy milk and building hand washing stations, and I teach the practicum. Hands-on lessons are an excellent way that volunteers can make a tangible impact and participate in teaching lessons, even with limited Kinyarwanda. When women take an active role in these activities, it solidifies the steps in their minds and can easily be reproduced in the home. Since we have completed these lessons, there is now a hand washing station at each village kitchen. Moving forward, women and children can practice good hygiene at this monthly community event, and it shows other neighbors and community members the value the health center and community health workers place on good hygiene. Many mothers have constructed tippy taps in their homes, and a mom recently arrived at the health center, proudly toting a bottle of soy milk that she had made after one of our demonstrations.
Aside from the importance of the lessons, visiting village kitchens has been critical to my integration at site. Xaverine and I spend hours together each week, walking to and from the farthest villages in our catchment area, sometimes close to two hours each way. This is a special time, away from the busy health center, where we get to talk about our lives, families and share information about the culture of Rwanda and that of the United States. Furthermore, visiting each community has strengthened my relationships with community health workers, and they are always proud to show off the work they are doing in their communities. Getting to see the moms who come in to receive milk, Shishakibondo (a government program that provides porridge to the lowest income pregnant women and children under two) and vaccinations, and the moms in our milk and family planning groups, in their own communities, is invaluable. We often get to see the children who have recovered from malnutrition or graduated from Shishakibondo eligibility, and each kitchen event has the feeling of a reunion. Visiting women in their communities is a privilege, and they always welcome us with open arms and minds, excited to learn new information and skills. Above all, community kitchens are fun! In addition to strengthening professional relationships, I have made new friends and feel a stronger connection to my community. Xaverine and I fully intend to complete a second round of visits, continuing to use this unique space to deliver important health lessons and get to know the women and children we are serving.