From Milk Mothers to Care Group Mothers
This is a story of the transformation of 15 milk mothers to 15 community health leaders.
In November 2017 my counterpart, Emmanuel, and I attended our first In-Service Training. The training brought us both a breadth of knowledge and ideas about projects we could do in the community: animal husbandry, cooking demonstrations, finance groups. However, the two ideas that inspired us the most were a Care Group and Permagardens. This story will highlight our journey together to create and execute our first Care Group. It will reveal the success of 15 mothers and how a small drop can create large ripples around it.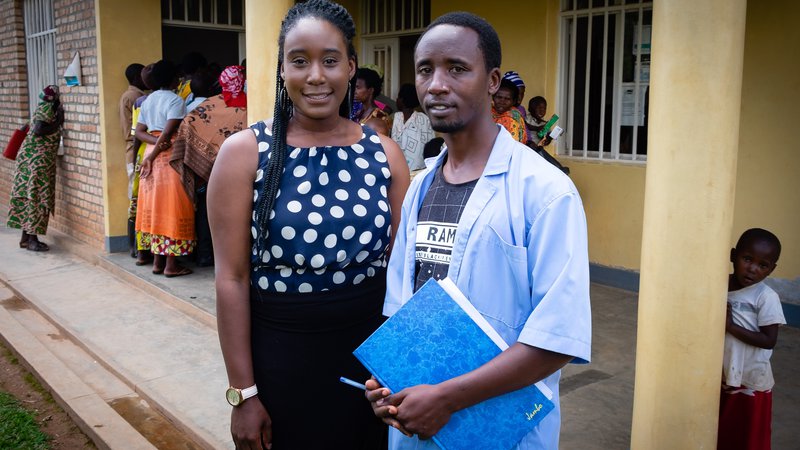 HOW WE GOT STARTED
In December 2017, my counterpart and I contemplated how we would start this project. How will we get volunteers? How many could we feasibly handle? Where and how will the trainings be done? How can we make this sustainable? One goal of Care Groups is to lessen the burden on health center staff while providing a more intimate environment to receive and understand information. For this reason, we couldn't see ourselves going into communities to find volunteers, as it would add to our workload in regard to supervision and trainings. So we looked for a source of volunteers that we already saw regularly: our milk mothers.
At the Health Center, we give out milk every week to mothers who have children that suffer from malnutrition. This was the perfect group to target for many reasons: 1. They come to the health center every week to get milk already, so supervision and trainings would be easy to implement. 2. They are mothers who come to take milk for their children, so they already have some desire to improve health at the household level. 3. Mothers are able and generally, more willingly, to participate in social activities.
On our next milk distribution day, we explained the goals, expectations, and purpose of Care Groups to our large group of 42 milk mothers, hoping we would get 15 to volunteer. The mothers were very reluctant at first, but with some reassuring, we identified our 15 volunteer mothers and our first Care Group was born.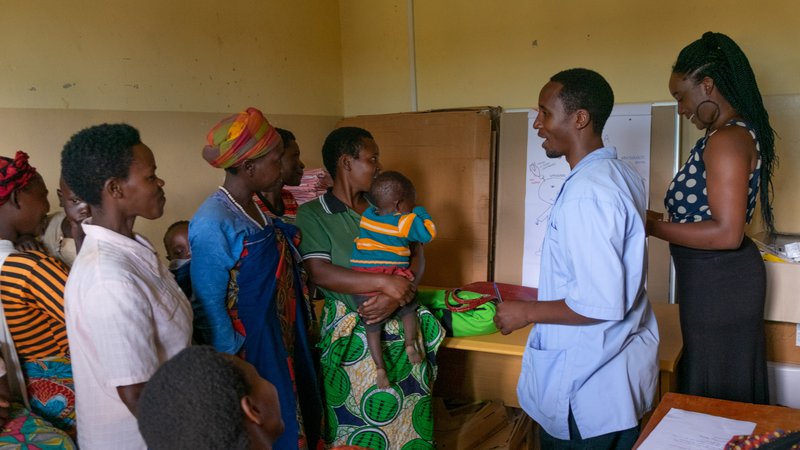 THE LESSONS
It was the first week of January 2018 when Emmanuel and I led our first Care Group meeting. We were both nervous and didn't really know how it would go. The first lesson was on Iminsi Igihumbi, which translates to the First 1,000 Days. The First 1,000 Days program is a government initiative to target maternal and child health during the first 1,000 Days, from conception to the child's second birthday. It was our goal to make sure all the mothers knew what this meant and how this would translate to their audience and the lessons.
From then on, Emmanuel and I led weekly lessons over a three-month span. We divided lessons into three blocks and each block had approximately four or five lessons. For example, block one covered nutrition; including lessons covering nutrition during pregnancy, complementary feeding, and how to prevent and break the cycle of stunting. Block two covered hygiene and sanitation and block three covered topics such as family planning and malaria.
Lessons would usually start before milk distribution, from 10AM-11AM. This was beneficial, as the mothers would have the opportunity to practice teaching what they learned to their milk mother peers.
IMPLEMENTATION AND EVALUATION
After the care group lessons, we asked each mother to teach the lesson to her neighbors, with a special emphasis on our target group: mothers who have children under five. We urged the mothers to keep the environment light and comfortable, and not to lecture their neighbors. For monitoring and evaluation purposes, we requested that they teach the same neighbors each time and that they document the family names and as much family information they could about each family.
Each care group mother received a small notebook to keep her neighbors documented and report if they taught their lesson for the week. We encouraged them to write or give us feedback they received during their community lessons as well. Every week we checked notebooks to monitor their progress, review feedback, and learn more about the engagement of their neighbors. Some mothers even said community health workers were asking them to teach during monthly village cooking demonstrations. Emmanuel and I really started to see the effect this project was having not only on these women, but also on the greater community.
CARE GROUP TRANSFORMS LIVES
Our mothers gained much recognition, not only in their communities but also in the health center. They are recognized as leaders and started to help by referring people to the health center for services and teaching lessons alongside community health workers. This brings me to a short story about one mother.
Olive came into the milk program when her child was six months old. He suffered from acute malnutrition. We immediately enrolled her in the milk program and her child started to improve. She eagerly joined our care group when the announcement came and was ready to make a real difference in her community. She came to the second care group lesson with 20 of her neighbors documented and was always participating during trainings. For the first three lessons, she came to every lesson and showed us that she had taught every family every lesson. But then, a tragic event happened.
One day before our fifth lesson, her older sister passed away, leaving behind two twin boys and no husband. It was now Olive's responsibility to take care of her sister's twins.
She missed two care group lessons after the death of her sister, but we heard she was asking for the lessons from another mother who lived close to her. She was still teaching her neighbors the lessons, although she could not attend the sessions at the health center. Eventually, she returned to milk distribution and care group lessons. Her dedication and ambition must have spread throughout her community and others, because within a few weeks, she was elected as the new community health worker for her village. Her son has graduated from the milk program, she has graduated from care group, and she is still transforming lives.
THE FUTURE OF CARE GROUP
The first 15 mothers from our care group have graduated from both the milk and Care Group programs. Their dedication, will, and hope to make their lives and others better, has inspired us to create a second care group. Although it is still in its infancy, this second group of mothers shows the same drive and potential as their trail blazing peers. And indeed, we hope they have the same monumental impact on their communities.
"Never doubt that a small group of thoughtful, committed citizens can change the world:
Indeed, it's the only thing that ever has."
-Margaret Mead