Malaria Mobilization and Training
"Until you dig a hole, you plant a tree, you water it and make it survive, you haven't done a thing. You are just talking."
― Wangari Maathai
The bed was tightly made, and I tossed my backpack onto the colorfully patterned comforter.
As I awaited the beginning of our 2019 malaria training and bootcamp, you could say I was having an existential moment: I'm coming up on my third year of living in Rwanda, two as a Peace Corps Volunteer in a rural village, and one year in Kigali as a health extension volunteer working on malaria research and prevention. I've been working on integrated and cross-sector malaria activities most of my service.
I followed my bags by falling backwards onto the bed and stared up at the tiled ceiling. After a day of travel, I was feeling a little burnt out and a mix of pessimistic thoughts raced through my head about malaria behavior change programs: Can they really make a difference? Can we as Peace Corps Volunteers make a difference? Will we ever know if we do? WHAT AM I DOING?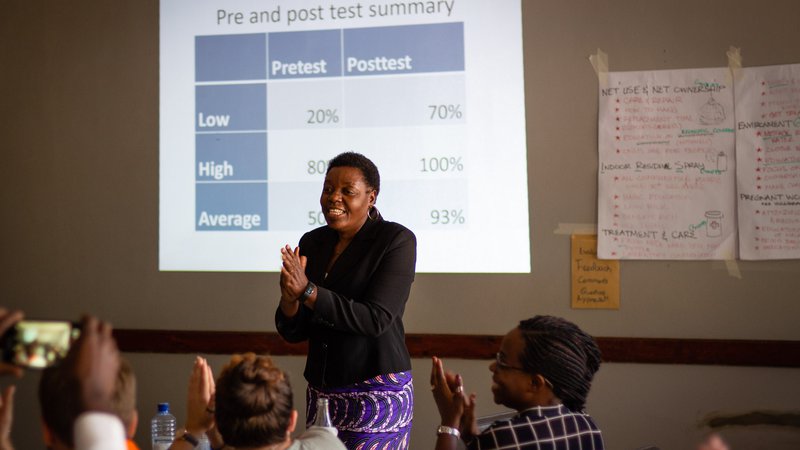 The first day of the bootcamp we woke up early, and it was a true whirlwind as we dove directly into the material. Energized by breakfast and coffee, the training kicked off without a hitch. We took a pre-test assessment that was extensive and thorough. We covered a plethora of subjects including Rwanda's malaria contingency plan, data management and behavior change best practices.
We worked tirelessly to move through the material. The team looked for ways to tailor the training as needed, and consultant and head facilitator Dr. Beatha actively pushed and guided us in the right direction.
Each day we assessed the challenges of all sessions, and each day Dr. Beatha and the Peace Corps team adjusted accordingly. "We need to use more Kinyarwanda; Let's add some visuals for the biology section; We need more time for action plans." We addressed participant feedback every night and each day the program became more refined as it was molded by participants and facilitators. It impressed me to see a team so willing to listen to the Volunteers and Rwandan counterparts, and so keen on not just having a training, but also having information and material that could be readily consumed and absorbed by the trainees.
Every day we faced challenges, but each time I became encouraged by the attitude and focus of the team. I was elated to see some tangible progress, but there was still much work to be done.
By Thursday, I felt a positive buzz in the room—people were having side conversations about malaria and ideas were being generated for bringing activities back to their respective health centers and schools.
So, great, we talked about malaria, synthesized some ideas and became more versed in the biology of the malaria parasite and best practices for community level prevention programs. Now what?
Like Maathai aptly said, don't just talk about what you need to do. Get your hands dirty applying what you've learned. Stop talking about planting a tree and plant one.
On Friday, we faced the most crucial part of the week: create a demo program, mobilize community health workers, and engage with a community.
After completing the curriculum, receiving certificates, and practicing the activities to conduct in the community, we packed into two buses and headed out to a rural village in Southern Province.
The plan: meet community officials and 100+ community health workers in order to conduct community mobilization and a sporting event centered on malaria prevention.
When we arrived, I could immediately tell things were going to be a bit chaotic. There were hundreds of students pouring onto the soccer field, and the energy was high. We had soccer games and races planned alongside our malaria education activities but they were supposed to be for small groups of high school students, not accounting for the extra 800 primary students appearing. Coordinating all the activities at once seemed daunting.
The community health workers from the district took control of the event and we sat down for a traditional dance they had prepared along with a special dramatic performance about malaria prevention.
Hundreds of students crowded around to see what was happening.
The community health workers began to unroll a hilarious drama in Kinyarwanda, about community health workers helping various community members to prevent malaria. There was a particularly memorable scene, where one of the well-known and respected community health workers dressed up as a drunk, representing someone who was refusing to remove stagnant water or sleep under a net. The message was simple: "You don't prevent malaria? You're being foolish." The students enjoyed this part, and the message seemed to really be hitting home.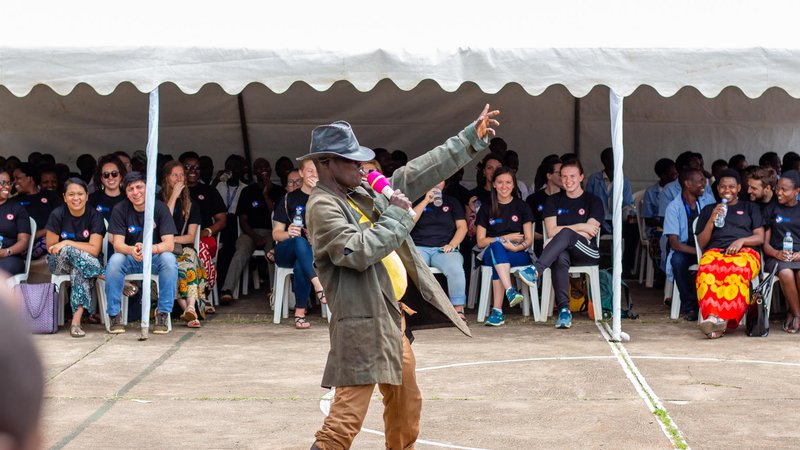 As a loudspeaker boomed out messages about preventing malaria, secondary students raced around a track for 400m and 800m running races. This form of integrated messaging can be very useful, especially when working with students. Youth attend the event primarily because of the music or sporting activities, but heard strategic messaging throughout the event.
Now it was our turn. Four groups of Peace Corps Volunteers created stations around the field to deliver our message. My station focused on sensitization for Indoor Residual Spraying (IRS) campaigns. IRS campaigns are implemented by spraying entire housing areas/communities with an insecticide which is safe for the families, but lethal to Anopheles mosquitoes. The insecticide also persist for at least six months. IRS is one of the most effective malaria interventions currently utilized in high malaria burden areas.
Though sensitization campaigns happen in communities before spraying campaigns, the bandwidth of community health workers to conduct these pre-spraying activities is often small, since they also need to spray >85% of the houses in each community for the intervention to be effective.
IRS prevents transmission of malaria by killing the majority of mosquitoes that enter the home. Understandably, showing up in protective gear and a canister of chemicals can prove to be a surprise and a shock to members of the community, especially if they are not familiar with IRS, its low risk, and the benefits it provides to families.
Our group pulled together a small makeshift outfit for Volunteers to wear representing the IRS uniform, and let the kids wear it while they yelled, "I'm a community health worker! I'm strong and killing the mosquitoes!" They would then spray an area and then children pretending to be mosquitoes would run to an area and fall down to the delight of the youngest onlookers.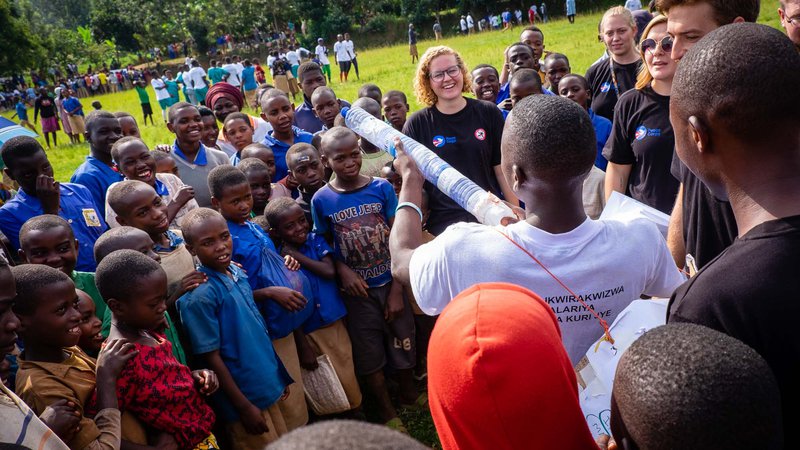 Positive reinforcement of the role of community health workers always feels like a step in the right direction, and I felt like we were hammering home messages those same community heroes had emphasized earlier in the program with their ingenious drama.
Our activities got cut a bit short as a referee waved furiously at us to get off the field and let the first soccer game start. In true Peace Corps fashion, however, Volunteers continued to do activities on the sideline.
I gathered a group of kids by my side and we crouched around talking about malaria and discussing its risk. Over 40 children crouched around as we taught them a catchy song about malaria (in Kinyarwanda but to the tune of happy birthday) and sang it over and over, until it would be stuck in my head (and hopefully theirs) for the rest of the month.