A Day in Rwamagana, One Year Later
Our cohort, Education 9, landed in Kigali just over a year ago.
A couple of days later, we moved into our host families' houses in the Eastern Province of Rwanda. I was overwhelmed. It was beautiful and it was hot and dusty, until it rained lions and hyenas. I had trouble communicating with my host family and rarely left their house other than to go to trainings at the Peace Corps Hub and the home classroom of my Language and Culture Facilitator (LCF). I was eager to go to the market on the first Saturday, just to check it out, but a young man in our group had tried and cautioned against it. Lots of unwanted touching, he said.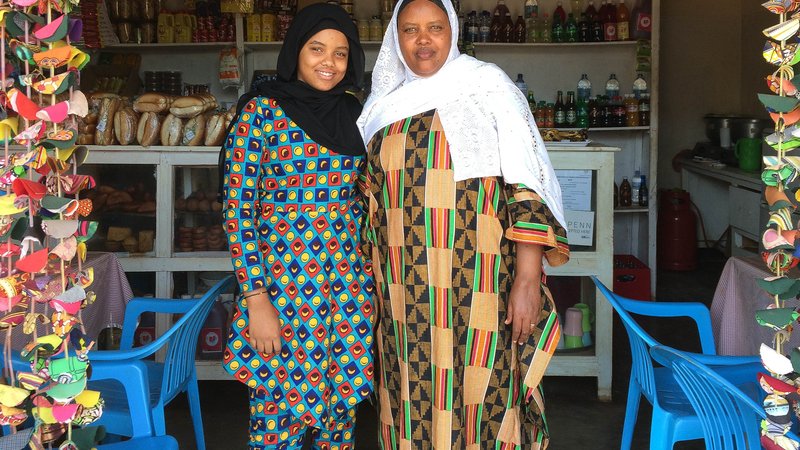 Within a few weeks, trainees started venturing to the market in groups during our lunch break, buying fruits and vegetables, likely at ridiculous prices. A few weeks after that, our LCFs taught us to bargain. I automatically despise that, but here I am a year later, making a game of it – even when it's a game I intend to lose. Nothing feels better than finding a purse at one of the boutiques that border the market and talking the young seller down by 5,000 Rwandan francs. And then telling him I'm not buying it unless he cleans the dust off it – all of this occurring in his mother tongue – a fact that makes him smile even as he shakes his head at me. Uzi Kinyarwanda. You know Kinyarwanda, he says.

How difficult it was to get used to being served hot milk when we went into the tea shops during our language class breaks! Another trainee told me she felt like she was at her mother's breast. Thankfully, my host family served icyayi mukaru, black tea with ginger and sugar. I told my LCF, Immaculee, how much I loved that tea, and shortly thereafter, she introduced me to the lady pictured here – Jamila and her daughter, Tata. Jamila and her husband had recently opened a boutique near the market, and she was willing to make black tea. It turned out she's also excellent at whipping up 4-egg omelets with chapati and a side of beans. Soon, all of us trainees started showing up on her patio for lunch. Now, when I make a trip into town, Jamila will hold onto my humongous moto helmet while I shop and let me use her latrine before I moto taxi back to my site. She is one of the folks who make Rwamagana into a home-away-from-home for me.
As an aside, I now have a liter of milk delivered every day. A youngster brings it before school, and it's still warm from the udder. I drink it hot because, without refrigeration or pasteurization, I must boil it to preserve it. Just another of the cultural adjustments I've made.  The school where I work, and the village I call home, is 30 minutes from Rwamagana, though it sometimes feels worlds away. On average, I travel to Rwamagana for business and shopping every two weeks. The only way in and out of my site is via moto taxi, another thing that can involve bargaining. On our market days (my village is heavily populated, so we have two market days per week), I can walk into town and greet half a dozen moto taxi drivers who want to take me to Rwamagana. The supply facilitates my bargaining for a lower price. There's one I must refuse, a kindly but very large man who spoke careful Kinyarwanda on our one ride together. But he's twice my size, and the road to my site is very bumpy. Even when I told him to slow down, I felt like I would fly off the back of the moto every time he hit a bump. My Kinyarwanda will never be good enough to explain the physics of load and lift, so I just give him a sad smile and choose a driver closer to my own build.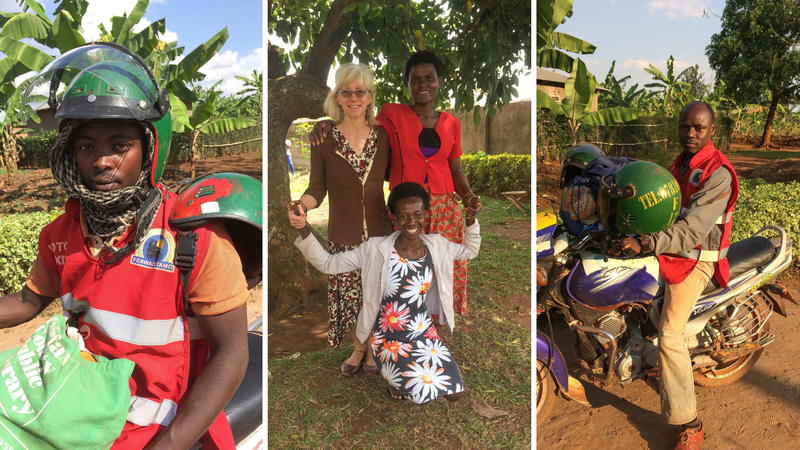 But, when I can catch a ride with one of the two gentlemen pictured here, the experience is truly gentle. Believe me, Mandy's posterior has tested many drivers in Rwamagana District, and these two consistently outperform the rest. Jonas (without helmet) was one of my first friends here and also one of my first English students. When timing counts, Jonas is my go-to man. Sangoga (wearing helmet) is based in Rwamagana, but he's almost always available to take me back to my village. He talks to me in Kinyarwanda for the entire 30 minutes of our ride. The few times I prove I understand, he gently pats my knee to congratulate me. Some people are genuinely curious about the differences between the US and Rwanda and that's what most of our conversations are about (I think). When we see tiny children lugging jerrycans up the steep hill from the marshlands, Sangoga asks me, "In America, do children fetch water in jerrycans?" I have to explain that, no, even for most of the poorest children in America, life isn't like that. Not anymore.
Another part of visiting Rwamagana is visiting my friends at the Peace Corps training hub. The photo above shows the two abakozi (workers) who are always there, Constantine (kneeling) and Claudine. Pre-service training was the hardest thing I've ever done. These young ladies made every day a little bit easier to bear, though – not only with their carefully prepared snacks, always available filtered water, and constant cleaning, but also by talking to me in that same special Kinyarwanda that can bring such joy by making a newcomer feel she's understood.
A couple of months ago, a colleague I call my brother and I rode our bikes to Rwamagana, a hot, dusty, and exhausting effort. We were welcomed at the Hub, though, allowed to wash up and drink our fill. Claudine kept our bikes for us while we took a bus to a nearby town for the day. Many LCFs were there, all of them greeting me and meeting my brother. He's also my Kinyarwanda tutor, and is rather demanding, but upon hearing me converse with the staff at the Hub, he admitted he was impressed with my language skills for once. When we left, he said, this is your family.
Nibyo, I said. It is true.