The idea originated during an action-plan session at the 2016 Peace Corps Malaria Expo. 
As soon as I returned home, I pitched the idea to my counterpart, Golethi. She agreed that doing an event focusing on malaria education and prevention was needed for our school community, so we started planning for Buzz Off Malaria to take place in May, during World Malaria Month 2017. We chose lessons and activities to teach and selected ten student leaders to help us with planning and running the event. Golethi translated resources into Kinyarwanda for our students to understand, and I invited Peace Corps Volunteers (PCVs) in my region to join us at my school.
I live in a district where malaria is a common problem. The goal of Buzz Off Malaria was to empower students to be educators in their homes and communities for how to prevent and treat malaria. Our six mini-lessons focused on education and action plans. About 100 secondary students participated. It was so fun to watch them engage in the games, demonstrations and activities that were being led by student leaders and PCVs!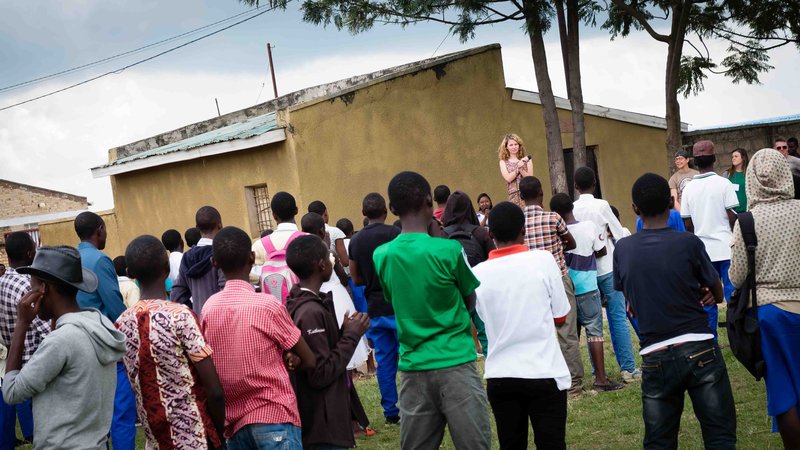 This week at school I have observed students talking about what they learned at Buzz Off Malaria. Whenever I walk into a classroom, the kids make the "buzzzzzzzz" sound and readily share the importance of sleeping under a mosquito net, taking medicine, and removing stagnant water. One of my students, Odilla, even asked me if I have been sleeping under my net because she noticed a bite on my arm! After I said I always sleep under my net, she said "Teacher, you need to wear long sleeves and pants for protection. You can not get sick with malaria." She gets it!!!!
Another student, Sam, created an illustrated story on poster paper for malaria education. He presented it at the event and posted it in a public area at school, so students can read it on the way to class. Every morning before school starts, there's a different cluster of kids sitting on the grass, reading the story. I'm so proud of my students for being engaged at Buzz Off Malaria and for applying what they learned to regular life. 
Because of my superstar counterpart, our excellent student leaders, and the dedicated PCVs in my region, this event was a step in the right direction for my community's fight against malaria.