U.S. Peace Corps Provides Support Interventions for DSWD 4Ps Parents in Central Luzon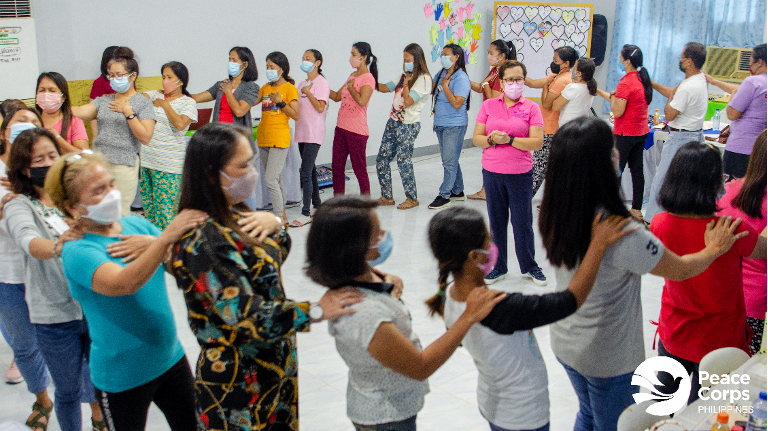 March 22, 2023
Manila, April 18, 2022—The U.S. Peace Corps, in partnership with the United States Agency for International Development (USAID), recently trained 50 parent leaders and 10 staff of the Department of Social Welfare and Development's (DSWD) Pantawid Pamilyang Pilipino Program (4Ps) in Tarlac and Nueva Ecija on parenting and caregiving amid the pandemic.
The Agapay Training for Parents—conducted by the Children and Youth Wellness Technical and Advocacy Center—focused on parenting support interventions to help manage the challenges of parenthood during the pandemic. Sessions included a sharing of their pandemic experiences, basic counseling, coaching skills, online safety for kids, and psychological first aid, among others.
"Your support for DSWD, your community, and your family are valuable. You all play a crucial role in building a safe community for our children," said U.S. Peace Corps Country Director Jenner Edelman.
"We recognize your resilience and perseverance in doing your best for your families and communities. By attending this training, you have shared your experiences with your fellow parents and have learned new strategies and interventions to cope with the times," added USAID Philippines Office of Education Director Thomas LeBlanc.
The training was in response to needs identified by DSWD and is part of a holistic approach to provide technical assistance and capacity building in the time of COVID-19. It aims to complement a prior youth training also done by the U.S. Peace Corps in Central Luzon earlier this year, which focused on motivating out-of-school youth affected by COVID-19 to go back to school.
Due to the ongoing pandemic, U.S. Peace Corps staff, rather than American volunteers, are providing technical assistance to DSWD and communities. The U.S. Peace Corps is the U.S. government's premier volunteer organization and has supported Filipino communities across the country for more than 60 years.
Over 9,300 American volunteers have served as co-teachers, youth development facilitators, or in other roles requested by host communities over the decades. To date, more than 300 Peace Corps volunteers have supported youth development programs in the Philippines.