U.S. Peace Corps Partners with DOH, USAID Vaccinate Over 26,000 Filipinos across Luzon and the Visayas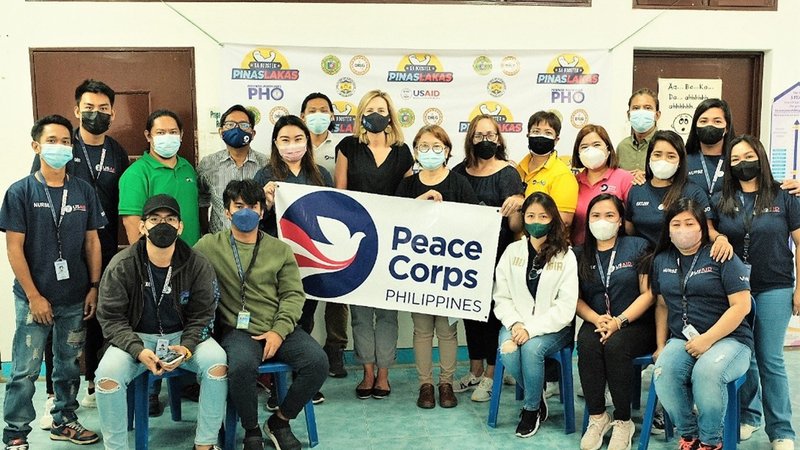 March 21, 2023
Manila, August 18, 2022 — The U.S. Peace Corps recently concluded a seven-month partnership with local health officials and the United States Agency for International Development's (USAID) ReachHealth project to support COVID vaccination clinics, vaccinating over 26,600 Filipino adults and children. In the absence of American volunteers due to the pandemic, U.S. Peace Corps staff have volunteered in vaccination clinics in the National Capital Region, Rizal, Cavite, Batangas, Pampanga, Nueva Ecija, and Cebu.
"The U.S. Peace Corps is proud to have worked alongside local health officials and USAID over the past several months to protect the Filipino people from COVID and prepare for safe face-to-face schooling this academic year," said Peace Corps Philippines Country Director Jenner Edelman when visiting a clinic in Cabanatuan City, Nueva Ecija, earlier this month.
Since February, U.S. Peace Corps' medical staff have administered vaccines, prescreened patients, and provided post-vaccination health education, while non-medical staff have encoded vaccination data. Vaccination sites have included schools, hospitals, malls, barangay halls, gymnasium, a provincial jail, a fire station, and house-to-house vaccination in multiple barangays.
American Peace Corps Volunteers will return to the Philippines in January 2023 and will support COVID programming activities in their host communities, in addition to their primary service assignments. Since 1961, over 9,300 Peace Corps volunteers have served as co-teachers, youth development facilitators, environmental experts, or filled other roles requested by host communities across the Philippines.