U.S. Peace Corps Hosts Nationwide Study Tour on Philippine Best Practice in Disaster Risk Reduction and Early Warning Systems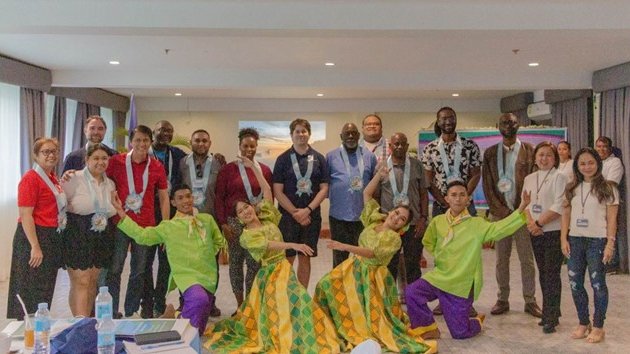 April 4, 2023
Manila, March 22, 2023 – From March 5-14, 2023, the U.S. Peace Corps hosted Disaster Risk Reduction (DRR) Focal Persons from six Peace Corps countries for a nationwide study tour of DRR and Early Warning System (EWS) best practices in the Philippines. This initiative, funded by the United States Agency for International Development, aims to strengthen U.S. Government efforts to support host country partners worldwide in adapting to climate change and building more resilient, sustainable communities.
"The Philippines is one of the most disaster-prone countries in the world and has a wealth of experience and expertise to share with other countries in effective DRR and EWS at all levels of government," said U.S. Peace Corps Environmental Specialist Neil Boyer during the opening program.
The visiting delegation included Peace Corps DRR focal persons and environmental and climate change experts from the Eastern Caribbean, Guyana, Paraguay, Malawi, Mozambique, Tonga, and the United States. While in country, they learned Philippine DRR and EWS best practices firsthand from national and sub-national Peace Corps partners including the Office of Civil Defense, PAGASA, the Climate Change Commission, and LGU partners in Pasig City, Baguio City, La Trinidad Municipality in Benguet, and San Francisco in Camotes, Cebu. Back in their home countries, the DRR focal persons will apply their experience in the Philippines and introduce DRR-focused Peace Corps Volunteer assignments requested by their own government partners, just as the U.S. Peace Corps has been doing through its specialized Response Program in the Philippines since 2007.
After nearly three years of pandemic, nearly 40 U.S. Peace Corps volunteers arrived in the Philippines in January 2023 to support requesting host communities across Luzon and Visayas for the coming two years. More volunteers will be arriving in 2023 and future years to support not only DRR and climate change-related priorities requested by host communities, but also the coastal resource management, education, and youth sectors. Over 9,300 Peace Corps volunteers have served alongside host communities across the Philippines since the program was first founded in 1961, across numerous sectors requested by Philippines government and other partners.
---