Philippines
Intercultural Competency, Diversity, Equity, Inclusion, and Accessibility
The Peace Corps seeks to reflect the rich diversity of the U.S. and bring diverse perspectives and solutions to development issues in the countries we serve. For the Peace Corps, diversity is a collection of individual attributes that together help the agency pursue organizational objectives efficiently and effectively. These include national origin, language, race, color, disability, ethnicity, gender, age, religion, sexual orientation, gender identity, socioeconomic status, veteran status, and family structures. Diversity also encompasses where people are from, where they have lived, and their differences of thought and life experiences.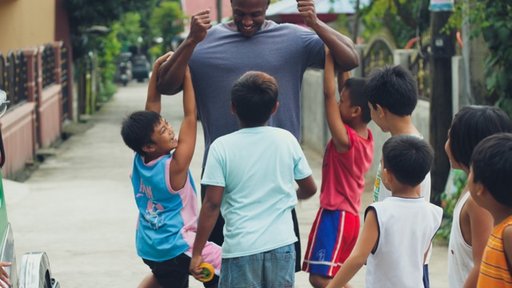 We also seek to create inclusion—a culture that connects each staff and Volunteers to the organization; encourages collaboration, flexibility, and fairness; and leverages diversity throughout the organization so that all individuals are able to participate and contribute to their full potential—throughout the Volunteer and staff lifecycle. Peace Corps Philippines leadership and staff are committed to a journey of discovery on ways to understand and proactively address biases that might be encountered related to race, skin color, intersectionality, body size and shape and more. We commit to discovering and facilitating ways for Trainees and Volunteers to be identity and body confident in the face of questioning and even challenge.
Diversity and Inclusion at Your Site
Diversity and inclusion within the Volunteer cohort takes on a different shape when the Volunteers are at site. U.S. concepts of diversity and inclusion will need to expand to make room for the host country and host community's own reality around diversity and concepts of inclusion. Additionally, you may be the sole American at your site, and therefore expected to make the adjustments needed to integrate into the community and collaborate on projects effectively and appropriately. During pre-service training, sessions will be held to introduce you to the Peace Corps approach to Intercultural Competence, Diversity, Equity, and Inclusion (ICDEI) to transcend differences, find common ground, and serve as an ally for your peers and community members.
Intercultural Considerations
The Peace Corps emphasizes professional behavior and intercultural sensitivity among Volunteers and within their communities to help integration and achieve successful service. As a Volunteer and representative of the United States, you are responsible for sharing your knowledge and perspective on the U.S. American experience with your Filipino counterparts. You will also be expected to actively and respectfully learn from the host country's national staff and community members about diversity within the Philippines.
To ease the transition to life in the Philippines, you may need to make some temporary, yet fundamental, compromises in how you present yourself as an American and as an individual and will need to develop techniques and personal strategies for coping with these limitations. During pre-service training, staff will provide training on how to adapt personal choices and behavior to be respectful of the host country culture and will be available for ongoing support.
What Might a Volunteer Face?
Gender Roles
It will be important to absorb and to attempt to understand the cultural nuances of gender roles in the Philippines. During pre-service training, you will receive an introduction to gender awareness in-country and will take time to examine your own thinking about gender roles and how they have impacted you. You'll then learn to analyze development projects using a gender lens to better understand gender roles in country and how these gender roles can benefit or limit what Volunteers may or may not do—both from a personal standpoint and in relation to work and relationships in-country.
As with many things, gender roles may vary region to region, community to community, and family to family. However, Volunteers in the Philippines are likely to find that roles within their host communities are prescribed by gender, particularly in homes and at the work place. For example, women and girls may be expected to help with certain chores around the home, stay indoors at night, and are required to wear long structured skirts to work. Males may be asked to participate in activities such as farming and heavy drinking with other men in the community.
Other gender norms include men generally receiving much greater freedom and independence than women, and men ogling or actively expressing feelings towards a girl or woman (which may include explicit sexual content or profanity). Some Filipinos may have a hard time understanding what a single woman is doing away from her family. In many communities, women do not wear short skirts (above the knee), halter tops, or other clothing that exposes bare skin.
Individuals that identify with and express gender identities outside of their host country's gender norms may experience challenges in adapting to local norms and integrating into their host communities. These individuals are encouraged to consult with staff cultural mentors to determine effective and appropriate strategies for navigating any potential issues. Again, during pre-service training, staff will provide support and training on navigating gender norms and integrating into your communities.
Despite various challenges, 93% of Volunteers reported that they feel safe and happy in the Philippines on the most recent Annual Volunteer Survey.
Serving as Volunteers of Color
Some host country nationals will expect all U.S. citizens to be white, and may be unaware of the wide breadth of racial and ethnic diversity in the U.S. For Volunteers, the range of responses to their skin color may vary greatly: from being mistaken for a host country national to being questioned about their U.S. citizenship, to facing behavior and language skill expectations or ridicule, to being able to get better prices for goods and services. These instances can become teachable moments for the Volunteer and the host country national.
While Volunteers can experience challenging interactions with host country nationals regarding race/ethnicity, they can also encounter challenges within their Volunteer community. All Volunteers are expected to be mindful and sensitive in how they approach and discuss differences, including race and ethnicity. This requires knowledge of these issues that are embedded in U.S. culture and within your country of service, and it requires a commitment to allyship with your fellow Volunteers. Peace Corps staff are committed to supporting all Volunteers in being safe, healthy, and effective during their service. This includes promoting and ensuring a safe and supportive Volunteer community and addressing significant conflicts as they arise.
Black and/or African American Volunteers may experience greater curiosity or unwanted attention from Filipinos about everything from sports activities, music, or food preferences. All Volunteers can expect to be stared at, but Black Americans may receive more stares. There are parts of the Philippines where community members have no experience or understanding of Black American culture. They may use offensive terms (including the "N" word), although these are more likely to be used because of ignorance rather than malice.
Asian American, Native Hawaiian, and Pacific Islander Volunteers may be identified more by their ethnic background than by their American citizenship. They may have to deal with Filipinos' stereotypical views about other Asian or Pacific Island cultures (e.g., all Chinese are rich traders). Some Asian American, Native Hawaiian, and Pacific Islander Volunteers may be mistaken for Filipinos, which may lead to different sets of expectations and behaviors from community members. People may expect them to speak the local language and to know local customs immediately. By the same token, by blending in more, Asian Americans, Native Hawaiians, and Pacific Islander Volunteers may not be stared at as often.
One of the challenges that Peace Corps staff will support Volunteers to navigate is colorism. In general, the Filipino version of the beauty ideal includes light skin tones. Also, as mentioned above, it is common for Asian Americans, Native Hawaiians, or Pacific Islanders to be mistaken for Filipinos. The hierarchy of colorism may also result in Filipino colleagues viewing the work of white Volunteers as being of greater value/in higher regard. Peace Corps staff are committed to supporting Volunteers of color and allies to navigate these challenges. Most Volunteers find acceptance and respect once personal relationships have been developed and professional competence has been demonstrated. There are also other sources of support, such as Volunteer affinity groups for peer support.
Serving as Lesbian, Gay, Bisexual, Transgender, Queer, Intersex (LGBTQI+) Volunteers
The Peace Corps actively supports Volunteers and staff of all genders, sexual orientations, and gender identities, and encourages Volunteers to serve as allies to their fellow Volunteers in all aspects. Many Peace Corps countries where Volunteers serve have prohibitive legal environments or restrictive cultures with regard to diverse sexual orientation and non-conforming gender identities, though some are more permissive. In every country, Peace Corps staff will work with Volunteers to provide them with locally informed perspectives. Some LGBTQI+ Volunteers have chosen to come out to community members, with a result of positive and negative reactions. While some have come out only to select Peace Corps staff and Volunteers, many have chosen to be discreet about their orientation and/or gender identity within their host community. LGBTQI+ support groups may be available in-country, providing a network to support the needs of the Peace Corps LGBTQI+ Volunteer community. More information about serving as an LGBTQI+ Volunteer can be found here.
Volunteers who are accustomed to being part of a vibrant LGBTQI+ community in the United States may not get the same understanding or support to which they are accustomed in their communities, though they can expect to find support within the Peace Corps community, including from staff and fellow Volunteers.
It is generally a safe environment for LGBTQI+ individuals in the Philippines. Just as in the U.S., there will be varying degrees of tolerance and acceptance. Acceptance is relative to locality in the Philippines. There is a higher acceptance rate in larger urban areas than in rural provinces. Host community members may have limited experience with, and assumptions about, members of the LGBTQI+ community. LGBTQI+ Volunteers in the Philippines are advised to consult with staff and spend time getting to know their host communities, in order to determine for themselves the best way to approach discussions of sexual orientation and/or gender identities.
In the mindsets of many conservative Filipinos, who may be parents of a Volunteer's student or leading figures in a community, being openly LGBTQI+ might not be compatible with their idea of the role of respected professional that Volunteers are expected to fulfill. Although public expressions of hatred against gays, lesbians, bisexuals, and transgender people are very infrequent, there is a commonly held attitude among Filipinos that gays and lesbians are comic characters or are okay to tease. The situation varies from place to place, so each Volunteer must decide for themselves, the most comfortable and effective way to balance possible barriers due to their sexual orientation with their ability to integrate into a new community. Many LGBTQI+ Volunteers in the Philippines found going slowly as the best approach.
Serving as Volunteers with Disabilities
Peace Corps staff is committed to working with Volunteers with disabilities to support them in training, housing, work assignment, community integration, or other areas to enable them to serve safely and effectively. For additional support, the Peace Corps' Office of Civil Rights and Diversity can be reached at [email protected].

Volunteers with visible disabilities may face physical, social, and attitudinal barriers. For example, buildings in the Philippines generally are not accessible. Only a few hotels and other establishments are equipped with wheelchair ramps, although some malls in big cities now have toilets with big doors. But, Filipinos are by nature generally kind and thoughtful and may try to assist persons with disabilities whenever they need support.
Serving as Volunteer Couples
Couples often face pressure from host country nationals to change their roles to conform better to traditional relationships in country. Host country nationals may find American relationship dynamics to be a cultural difference that is challenging to bridge. It is also helpful to think about how pressures to conform to local culture can be challenging to men and women in very different ways. Considering how your partner is being affected and discussing what, if any, aspects of your relationship should be changed can help reduce stress for you both.
Peace Corps Philippines has hosted same-sex couples in the past. Staff have also participated in the Same-Sex Couples Initiatives Training that prepared them to support same-sex couples in training, housing, work assignment, community integration, or other areas to enable Volunteers to serve safely and effectively.
Serving as Volunteers of Faith
The Philippines is the only country in Asia with a predominantly Christian population—more than 90 percent identify as Christian (where about 80 percent are Roman Catholic). Of minority religious groups, about 8 percent are Muslim and 4 percent belong to the Philippine Independent Church—a nationalist Catholic Church. The Iglesia ni Kristo (Church of Christ) is the largest Protestant denomination with 4 percent, while Baptists, Methodists, Mormons, Jehovah's Witnesses, and other denominations make up about 2 percent. Although Volunteers are free to exercise their personal religious beliefs, they may not engage in religious proselytizing or other activities that are against the law or would impair their effectiveness as a Volunteer.
Serving as Age 50+ Volunteers
Older Volunteers may find their age to be an asset in-country and will often have access to individuals and insights that are not available to younger Volunteers. However, pre-service training can be particularly stressful for older trainees, whose lifelong learning styles and habits may or may not lend themselves to the training techniques used. Some 50+ Volunteers may find it difficult to adapt to a lack of structure and clarity in their role if they have worked for many years in a very structured and demanding job. A 50+ individual may be one of the only older people in a group of Volunteers and initially may not feel part of the group. However, many older and younger Volunteers have formed strong friendships throughout service and afterwards.
The retirement age for workers in the Philippines is 60-64 years old, with a compulsory retirement age of 65, so Volunteers of this age will find that most, if not all, of their Filipino co-workers will be younger than they are. Filipinos give great respect and importance to senior family members, and older Volunteers often receive similar deference and respect, although this does not necessarily translate to greater respect for their professional competence or technical knowledge.