Philippines
Partners
US Peace Corps continually seeks to build and strengthen relationships with government partners, non-profit organizations, academic institutions, and civil society. Our approach to partnership is grounded in mutual respect and collaboration and is a catalyst for lasting community-driven, community-centric development.
Partnerships enable US Peace Corps to better understand and support host communities in meeting their local development priorities, provide the right training for our Volunteers, and leverage each other's resources and expertise. Moreover, partnerships enable US Peace Corps to better achieve its mission of world friendship and peace by increasing mutual understanding and appreciation. US Peace Corps warmly thanks and salutes all of its many partners for their support and commits to continuing to identify new partnership opportunities.
---
Philippine National Volunteer Service Coordinating Agency (PNVSCA)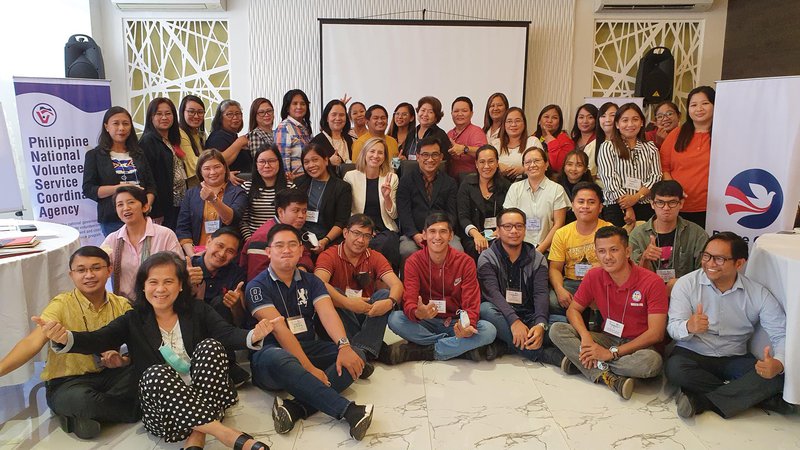 Peace Corps Philippines operates under the coordination of the Philippine National Volunteer Service Coordinating Agency (PNVSCA). PNVSCA is subordinate to the National Economic and Development Authority (NEDA) and is mandated to coordinate all domestic and foreign volunteer organizations in the Philippines. Peace Corps works alongside PNVSCA to determine the best sites for Volunteer placements in the country.
---
Republic of the Philippines Department of Education (DepEd)
The Department of Education (DepEd) supervises all elementary and secondary schools, including alternative learning system, where Education Volunteers are assigned. In 2018, Peace Corps renewed its partnership with DepEd and the Philippine National Volunteer Service Coordinating Agency (PNVSCA) through a new Memorandum of Understanding for a period of five years. The agreement sets forth expectations, roles, and responsibilities of Peace Corps, PNVSCA, and DepEd in the design, promotion, implementation, evaluation and continuous support of projects and activities related to the Peace Corps Philippines Education Sector, covering all levels of governance of DepEd. This ensures the continued placement of Peace Corps Education Volunteers in public elementary and secondary schools in priority provinces. Volunteer placement in state universities and colleges (SUCs) is covered by a separate Memorandum of Agreement (MOA) with each SUC President and is valid for the two-year duration of the Volunteer's service.
---
Peace Corps Alumni for Philippine Development (PCAFPD)
PCAFPD is the official Returned Peace Corps Volunteer (RPCV) group for the Philippines and is an affiliate of the National Peace Corps Association (NPCA). In 1983, Returned Peace Corps Volunteers and staff created the Foundation as a way for former Volunteers and staff to stay connected to the Philippines and to each other in a worthy cause. PCAFPD chose human development as the focus of the organization because of a conviction that motivated, knowledgeable, and skilled individuals are the key to community change and national development. Through a scholarship program, the Foundation provides educational opportunities for bright, Filipinos who indicate a willingness to contribute to the development of their country, but lack the financial resources to pursue a university degree.
PCAFPD is incorporated as a non-profit organization according to the laws of the District of Columbia and under Sec. 501(c) (3) of the Internal Revenue Code.
---
U.S. Agency for International Development (USAID)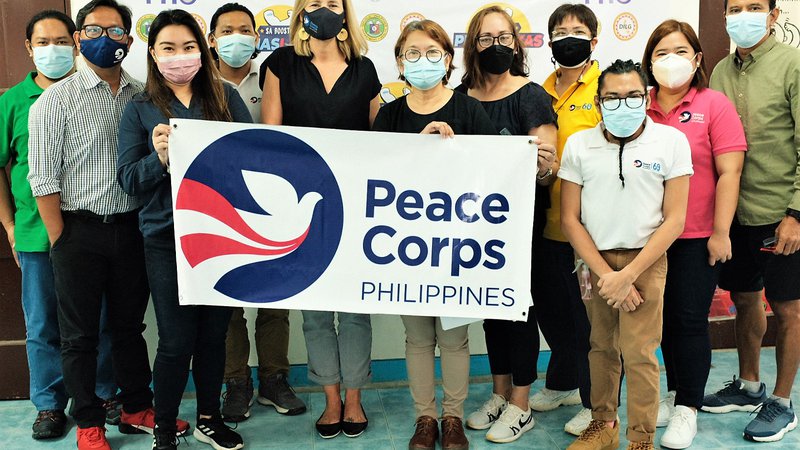 Partnerships allow Peace Corps to work closely with the US Mission to provide better service in meeting the goals and visions of the country. It increases and maximizes the use of shared resources among organizations for stronger impact and secures cooperation among the stakeholders to promote common ideals and values. The USAID supports the funding of Peace Corps Volunteer training and grants through the Small Projects Agreement (SPA) facility. Aside from individual grants awarded to PCVs, USAID funds the trainings on Project Design and Management for all Volunteers and their Filipino counterparts as well as the Mangrove Training for all CRM Volunteers and their LGU representatives.
---
Republic of the Philippines Department of Social Welfare and Development (DSWD)
DSWD supports the welfare agencies where CYF Volunteers are assigned.
The CYF Project works closely with the Department of Social Welfare and Development (DSWD) with Volunteers being assigned to Local Social Welfare and Development Offices (Provincial, City, or Municipal), Local Youth Development Offices (LYDOs), other DSWD-accredited Non-Government Organizations (NGOs) serving vulnerable children and youth, and DSWD Centers and Institutions, Youth Crisis Centers, Pantawid Pamilyang Pilipino Program (4Ps) Implementation.
DSWD engage, collaborate, coordinate and work with the Peace Corps to develop, design and review projects and activities in the CYF sector and to connect the Peace Corps with relevant Field offices, DSWD licensed NGOs and local government units and their local staff, and vice-versa, to implement such projects and activities; and identify potential communities or sites in order for the Peace Corps to review and vet these sites for Volunteer assignments; among others.
---
Bureau of Fisheries and Aquatic Resources (BFAR)
BFAR supports the local government units where CRM Volunteers are assigned.
---
Rare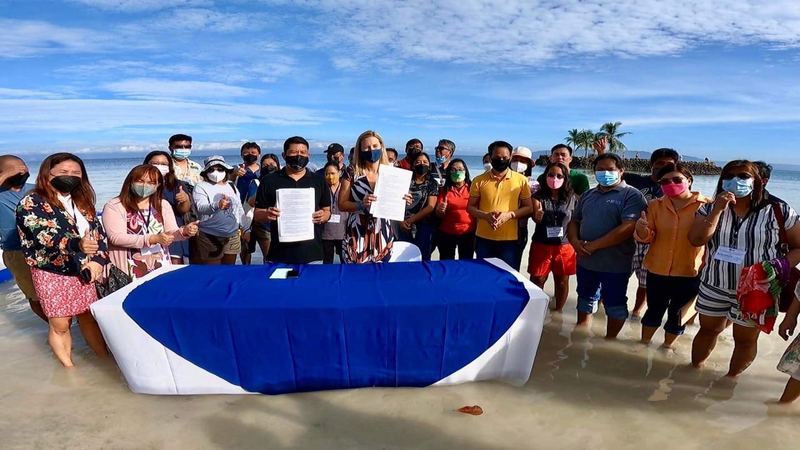 Rare, a US based NGO with expertise in behavior change communication, provides technical assistance to US Peace Corps Philippines during the pre-service training of the volunteers. Staff of Rare are the ones who conducts lectures and workshops about coastal resource management, fisheries management and behavior change communication.
---
Center for Excellence in Special Education Foundation Inc. (Stepping Stone)
The Stepping Stone is a school for special education that provides diagnostic, therapeutic, educational and pre-vocational services and facilities for students with learning and behavioral difficulties. The conditions are associated with autism, attention deficiency/hyperactivity disorder (AD/HD), cerebral palsy, down syndrome, and various other forms of developmental and intellectual disability. Originally, a project of the Rotary Club of Makati, it grew over time to become a school for special education catering to a large percentage of students from a marginalized community.
The Peace Corps Response program has been in partnership with Stepping Stone since 2014, one of the long-term partnerships of the program and have hosted numerous PCRVs with expertise on Speech Language Pathology and Physical Therapy. The PCRVs whose assignments range from 7 months to a year provide technical assistance on the enhancement of techniques, methods for assessment and intervention, training of teachers and students, among others.
---
Local Government Unit (LGU) of La Trinidad, Benguet
La Trinidad is a first class municipality situated in the mountainous area of the Benguet province and is composed of 16 barangays. As it is prone to a wide range of hazards, the La Trinidad Disaster Risk Reduction and Management Office was established in 2011 in accordance with Republic Act (RA) 10121. One of the policies in the DRRM Act is to mainstream DRR and climate change in development processes. The framework serves as the principal guide to DRRM efforts and it envisions a country of safer, adaptive, and disaster resilient Filipino communities. Furthermore, RA 10121 provided LGUs with strengthened capacity for disaster mitigation, preparation, response, rehabilitation, and recovery.
The Peace Corps Response program partners with various LGUs throughout the country with focus on capacity building and transfer of technology with high priority towards DRRM. This priority covers the program areas of (1) disaster preparedness and mitigation, (2) natural disaster relief and reconstruction, and (3) post-conflict relief and reconstruction. LGU La Trinidad has been in partnership with PCR since 2017 and have hosted DRRM experts for the development of community-based DDRM programs, training materials, and assistance in data collection and forging partnerships with existing and potential stakeholders. The partnership between PCR and the LGU mainly emphasizes the need for capability building program and training to address technical needs.
---
Southern Leyte State University
The Southern Leyte State University is a public university located in Sogod, Southern Leyte and is composed of 6 campuses. Its main purpose is to establish a basis to continually improve the University's performance in instruction (education), research, development and extension, so also with its administrative and support services. The University provides advance education, higher technological, professional instruction and training in trade, fishery, agriculture, forestry, science, education, commerce, engineering and related courses. It also undertakes research and extension services and provides progressive leadership in its areas of specialization.
The Peace Corps Response program supports State Universities and Colleges such as SLSU. The university recognizes the need for external technical support as it is projected to enhance quality of instruction, research and development, and extension programs. PCR is in partnership with SLSU since 2019 and have hosted PCRVs with expertise on DRRM and Aquatic Resource Management. SLSU is one of the many State Universities and Colleges in the Philippines which PCR partners with and provides technical assistance thru the PCRVs based on a technical-need basis.