Peru
Director's Welcome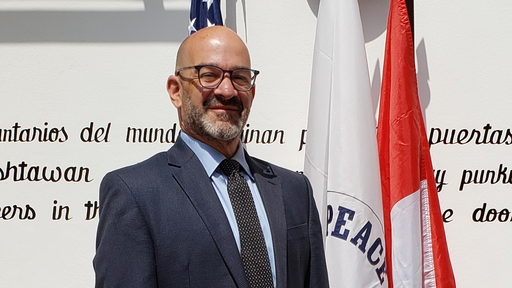 Dear prospective Volunteers, Returned PCVs, Friends and Family,
Welcome to the Peace Corps Peru webpage! We hope that you find here the information and inspiration to support us and join us as we carry out Peace Corps' mission of world peace and friendship. Making the decision to join us is a noble challenge - to enter into the service of others and do something bigger than yourself. Peace Corps service is both an honor and a privilege. It is also a commitment that will offer challenges and frustrations, as well as personal growth, inspiration, and hopefully great joy.
Our two-year program, Volunteers are, in their majority, generalist Volunteers who participate in at least eleven weeks of intensive training prior to beginning their service. We also recruit experienced Peace Corps Response Volunteers who serve in targeted professional placements for up to one year. Our Volunteers reflect our country's great diversity.
Peace Corps Volunteers in the two-year program in Peru work in the areas of Youth in Development, Community Economic Development, Community Health, and Water, Sanitation and Hygiene. Volunteers in our Peace Corps Response program support the above programs while also working in areas as diverse as Environment, Gender Awareness, and Special Education. While working to advance project objectives, Volunteers enjoy all that this beautiful country and its people have to offer.
Here in Peace Corps Peru we employ a service support model throughout your time with us – from when you are a newly arrived Trainee through to when you are a grizzled service veteran. Service support is the approach, systems, and strategies that we have in place to support a successful service experience. It encompasses relationship and capacity building and takes into account the needs of all of the stakeholders throughout your entire service. Those stakeholders include the community to which you will be assigned, the local organizations you will be supporting, and our national partners, such as the Ministry of Health. Our goal, accomplished through a continuum of learning, assessment, and support, is to prepare you to be a partner in community development.
An important component of our service support strategy is helping you develop the competencies that will prepare you for professional service by exemplifying commitment to service and resilience; demonstrating responsibility for personal health, safety and security; integrating into communities; and facilitating participatory community development.
For those of you that decide to join us, you will be involved in a mighty endeavor to help Peru recover and rebuild from the ravaging effects that Covid-19 has had on the social and economic environment in Peru. Peace Corps Peru is well positioned to help re-build the communities where our Volunteers serve.
Peace Corps Peru staff is composed of highly skilled, innovative, and empowered professionals who are dedicated to the development of their country and provide the best possible support to our communities, the local and national partners, and the Volunteers. As development workers, programmers, planners, cultural guides, health care providers, coaches, champions of safety and security, trainers, administrators, drivers and a myriad of related roles, they create and sustain an organizational environment where leadership is understood as a means to help others grow.
Peace Corps Peru is a learning organization that embraces change and is inclusive in nature, welcoming diversity and testing new ideas to meet the needs and demands of changing times.
We hope that you will be inspired by our mission and our work, and that some of you will join us either here in Peru or at other Peace Corps posts. We look forward to working with you as you start that journey.
Stuart Jablon
Country Director
RPCV Jamaica 1983-85