Peace Corps Week commemorates President John F. Kennedy's establishment of the agency on March 1, 1961, and celebrates all the ways that Peace Corps makes a difference at home and abroad. This year we celebrated Peace Corps Week February 28 - March 6, 2021.
---
Celebrating 60 Years of Service
Sixty years after its founding, the Peace Corps' mission to promote world peace and friendship remains more relevant than ever. The Peace Corps, at its core, is about celebrating diversity around the world, building relationships and opportunities, and fostering equity and inclusion.
Since 1961, more than 241,000 Americans have served our country and the global community as Peace Corps Volunteers, living and working alongside local leaders to catalyze change. After Volunteers complete their service, they return to the United States with new sets of skills, deep knowledge of other cultures and global issues, and long-lasting relationships with people from their host countries.
Returned Peace Corps Volunteers (RPCVs) continue their service by promoting awareness of other cultures and global issues with friends, family, and the American public; maintaining relationships with colleagues and friends from the countries where they served; and sustaining their commitment to volunteerism and public service.
---
2021 Peace Corps Week Highlights
During the 2021 Peace Corps Week, we invited the world to celebrate six decades of the Peace Corps, and we called upon RPCVs to reaffirm their commitment to service, to continue building bridges between individuals of all backgrounds, and to inspire a new generation of global citizens.
We also invited returned Peace Corps Volunteers—and those who knew them—to tell the story of how RPCVs usher in innovative solutions to collective problems in their communities at home in the United States.
Here are a few highlights from this year's Peace Corps Week:
Over 1,600 people attended our national and local virtual events
Our event participants included RPCVs from around the world, elected officials, ambassadors from several Peace Corps host countries and a special recorded message from Douglas Craig Emhoff, Second Gentleman of the United States
More than 70 news media outlets ran stories promoting the Peace Corps and our 60th Anniversary
Learn more about 2021 Peace Corps Week events:
---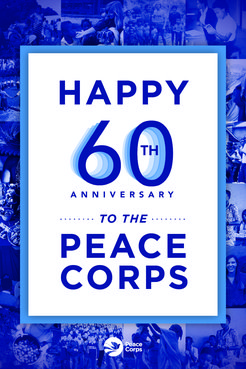 Continue the celebration on social media
Share with your social networks:
Post your photos of faces and places from service and tag:
#RepYourDecade
#PeaceCorpsWeek
Share how the knowledge, skills, and abilities gained during Peace Corps service have impacted your career and community here at home:
#RPCVImpact
#PeaceCorpsWeek
---
Share your story
If you are a returned Volunteer, tell us about your experiences as a Volunteer or how you have taken what you learned as a Volunteer and continued to make an impact in your community or career following your service. We also welcome submissions from any individuals impacted by the Peace Corps.