In a field that is often so male-driven, I feel that it was meaningful to create a space where women could see other women launching their business and could talk to each other about the specific struggles they face in that quest.
Last December, with the school year at an end and my primary work contacts preparing to enjoy vacations in the Paraguayan summer, I decided to follow an old lead on a project. I had worked with a branch of the municipal government on a children's geography camp the previous summer, and some weeks prior I had run across my contact there. She was now the Secretaria de la Mujer (Secretary of Women) and hoping to expand the department's work beyond gender violence. Would I be available to meet? Now with some time on my hands, I made my way over to her office. The conversation that ensued about the department's goals and our possibilities for collaboration was exciting. As a volunteer nearing the end of my service, I had spent the previous 1.5 years in site focused on entrepreneurship initiatives. While I loved the work, I sometimes found it difficult to drum up interest outside of the university -- I had just attempted to hold a small business workshop at my local community center, but had to cancel due to insufficient interest. Now, however, my contact spoke of her connections with women's committees all over the district. She had the interest, but just needed someone to teach! We developed the broad strokes of a year-long plan for her office and set the date for our first workshop in January.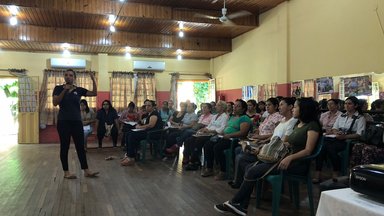 Our summer business workshop, "Aprendiendo a Emprender" ("Learning to Launch"), was an unexpected but wonderful collaboration between volunteers and the local government. We opened to a room of around 40 women of all ages from different parts of my community, half of whom already owned a small business. At the urging of my contact, we began the first day with a session on positive self-esteem and goal-setting, stressing the importance of these skills for the success of any entrepreneur. We followed the rest of the week with sessions on market research, marketing, establishing costs and prices, and basic accounting, hoping to equip the women with the most relevant skills to launch or improve their business. I developed the sessions with the generous help of four volunteers, Lyla Shapiro, Jake McIlvaine, Brock Hurston and John Fox, and one returned Peace Corps volunteer launching her own NGO (SuperKids) in my site, Esther Katcoff. We worked to ensure a dynamic, interactive and fun space where the women felt comfortable voicing their ideas and collaborating on the activities. This approach paid off throughout the week and I was repeatedly impressed by the quality of the contributions the participants made. On several occasions, participants took the mic to expand the discussion on the material being presented and share what tools and strategies had worked for them. This spirit of mutual support led to quick friendships and a feeling of momentum that continues now on the workshop's WhatsApp group chat.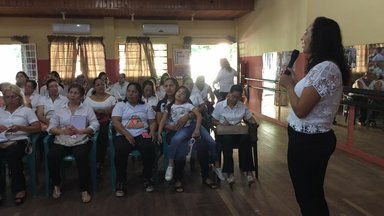 I enjoyed the summer workshop tremendously. Floating through a languid summer with the end of my service in sight, I had initially eyed the volume of work necessary to pull off the workshop a bit suspiciously. By the last day, however, I felt sad that it was over, and hopeful that we could arrange follow-up sessions with the group to expand on different topics. Out of all the different entrepreneurship workshops and classes I have done during my service, this one was particularly noteworthy. Part of that had to do with the accumulation of experience, which allowed me to choose the best topics and activities for the group, and part of it was the support I received from local counterparts and other volunteers. But I can't help but attribute an element of the workshop's success to its woman-centered focus. I am happy and honored to have been a part of this project, and I hope to see more of these spaces spring up around Paraguay. While the struggle for sustainability is ever-present, I am encouraged by the fact that, as the class closed, at least two of the participants who approached me to request materials plan to use them in their own SNPP (Servicio Nacional de Promoción Profesional) business plan courses. I hope to continue fostering the relationships we created during the workshop and contributing to a framework for these projects to continue after my departure.